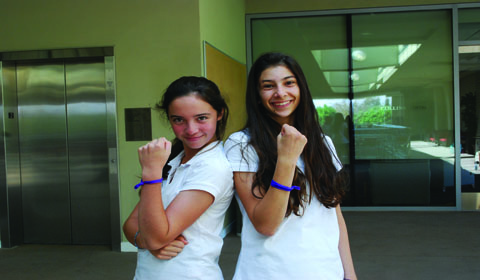 Why is Ms. Wolf searching my backpack? Did I do something wrong? Wait, you mean I have to carry my bags around all day? How am I supposed to keep my locker closed if I can't remember my combination?
These questions infiltrated the campus as girls arrived at School on Sept. 24.
To accompany Marlborough's annual Honor All-School Meeting (ASM), All-School Council decided to simulate a morning without honor in order for students to gain insight into the way a school without our Honor Code would function. The morning allowed girls to appreciate the complete trust and mutual respect that the Marlborough community provides for us by temporarily taking away privileges.
Students were thus greeted by faculty and council members searching their 90-pound bags, telling them that all possessions must be in their lockers or on their backs until further notice. Suddenly the MacBook computers, purses and wallets lying around campus were nowhere to be found, with only the confused and alarmed expressions of students to take their places. Although this was a surprising entrance on a Monday morning, it was also a glimpse of a normal high school community.
All-School President Genny '13 said that she and the rest of All-School Council decided on a morning without honor because the scenario would be attention grabbing.
"When I was in 7th Grade we did the same thing. It scared me but it made me realize what it would be like not to have the Honor Code," she said.
Dean of Student Life and English instructor Sarah Wolf explained that All-School Council wanted to make the ASM memorable.
But some students questioned whether the simulation was an accurate portrayal or a gross exaggeration. "They were trying to show you what it would be like at a different school, but it was not a realistic situation," one student said. "It made me upset because I went to a public school. Do they think we're like juvenile delinquents?"
Others found that the morning helped them appreciate the amount of trust between students and faculty. "I found it effective so that students could see that what they think is normal isn't in a real life situation,"  10th Grade Level Dean and history and social sciences instructor Tom Millar said.