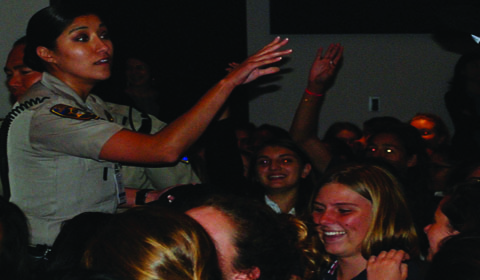 Five teens, all crammed into one car, zoom down an empty road at night. The windows are down and the music is blaring. Two guys in the back seats wrestle over a Monster energy drink and a bag of chips. The girl in the passenger seat sticks her head out the window, laughing and singing at the top of her lungs. Although this might sound like a perfect summer night or the best scene from Perks of Being a Wallflower, the night takes a turn for the worse when the driver chooses to swerve the wheel.  She loses control of the car, which flies into a tailspin and crashes into a tree at full force. All five kids are injured; four survive, one does not.
On Tuesday, Sept. 18, Upper School students gathered in Caswell Hall during A period to hear Martha Tessmer, safety advocate for the charitable organization Impact Teen Drivers, inform students of the dangers of reckless and distracted driving.
After presenting a video which described the events leading up to and the consequences of the fatal car crash described above, Tessmer revealed that the boy who died in the accident was her son, Donovan Tessmer. Killed a few weeks before his 17th birthday, Donovan was a gifted athlete who had dreams of playing college football. The rising senior died the day before college recruitment scouts would have been able to officially contact him.
The message was startling for Upper School students, most of whom drive or are in the process of learning to drive.
Gina '14, who got her driver's license over the summer, said she was moved by Tessmer's heartfelt story. "It gave me chills to know how quickly everything can change as a result of something as stupid as a text message or a playful swerve of the wheel," she admitted.
Assistant Head of School and Director of Upper School Laura Hotchkiss said she thought the presentation was frightening but critical for students to hear. "Cars have the potential to be a dangerous weapon. Kids need to be reminded that driving recklessly creates tragedy," Hotchkiss said.
In addition to sharing her story, Tessmer also showed students numerous statistics relating to teen driving, including the fact that on average car accidents kill more teens in the U.S. than suicide, disease and homicide combined.
"It was shocking and kind of painful to hear about, but it was necessary," Gina '14 said. "I think everyone will be more focused behind the wheel. I know I will."