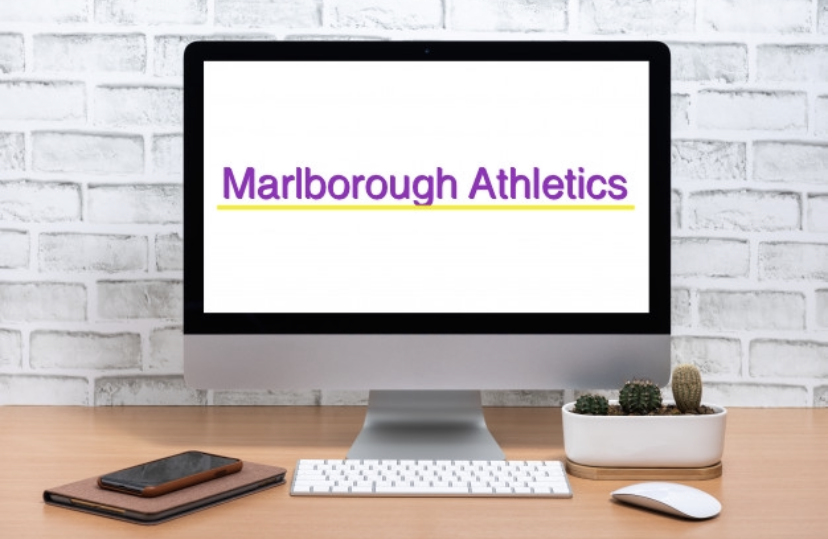 The Marlborough athletics department is figuring out how to effectively keep athletes active over zoom training during distance learning. Throughout COVID-19 pandemic social distancing, the coaches have strived to keep athletes motivated and ready for when they are allowed to start in-person training and games, but their solutions have had to adapt.
The athletics department has a weekly meeting to re-evaluate whether their technique of coaching is sufficient and suitable for the athletes.
"Every week, we are trying to think of what's the best possible way to go about this [online training], and every week it changes… We want to keep… planning it out week by week so that we know what's the best fit for everyone," Bridget Carlin, Associate Athletic Director said. During these meetings, they discuss the 7th and 8th grade virtual practices, and how effective and productive they are.
The athletics department originally held virtual practice sessions for 7th and 8th graders every Monday for 45 minutes from September to November. These trainings consisted of character building, mental training, setting goals, and physical practice. However, it was hard for the coaches to focus on one sport at a time because the sessions on Monday were not sport-specific. Every other week, the varsity head coaches sent out small drills that were beneficial to individual sports, so the athletes did end up getting practice in their specialty sport/sports.
Instead of the virtual trainings, the athletics department is slowly preceding to roll out 7th and 8th grade on-campus training opportunities. Currently, tennis and cross country/track & field practices are on Saturday mornings. The committee is also working on adding more 7th and 8th grade teams to the in-person sports schedule as well.
"Although I was provided with a variety of sport-specific workouts, it's getting the motivation to get up and actually do them, that was difficult for me. I would always feel I had something better to be doing… Whereas when you have a specific practice time once or twice a week that you will be attending, it obviously forces you to do the workouts there, and it gives you the time to do so," Ciara Levin '24, the 9th grade Athletics Representative said. Ciara, along with many other athletes, is said she is slightly unmotivated to sustain a high-intensity mindset during distance learning.
Discouragement is a large issue the athletics department aspires to solve. The coaches are finding that athletes are not motivated to train for their sport because they are unhopeful that they are going to play soon. They try to eliminate the discouragement with mental training in the practices.
"At one of the sessions we had a few weeks ago, we talked about goal setting, visualization, making a routine, the power of having an accountable partner," Carlin said. She also believes that it is important to keep the trainings light and fun because they cannot continue to harshly train the athletes since the season is far away and still up in the air. The coaches believe encouraging and engaging with the athletes is a vital aspect of coaching during virtual learning.
Another demotivating factor is that there is no social aspect of being on a team during socially distanced training. "There is this super strong bond you build with your team because practicing together, they kind of see your ups and your downs, at the same time. Plus, it [the team] is a big community because it is separate from your school… and social life, so it is my place to just go on the field and be with my team, and it's a whole different sense of community… because they are a different type of friend," Addison Seidel '26, the 7th grade Athletics Representative said.
Currently, the Marlborough 7th and 8th grade athletes are training in isolation. Many of the Marlborough sports revolve around a team environment. Students do not have this exposure at the moment, and therefore the athletes do not have any motive to persevere and keep training. Ms. Carlin suggests doing training on Zoom with a teammate to make it more fun and interactive. The coaches are all for any way students can safely train.
"The coaches at Marlborough are doing a good job right now because… they are encouraging all student athletes to stay motivated," Addison '26 said. Marlborough's athletics department is doing a good job handling the virtual world, and the athletes appreciate their hard work.