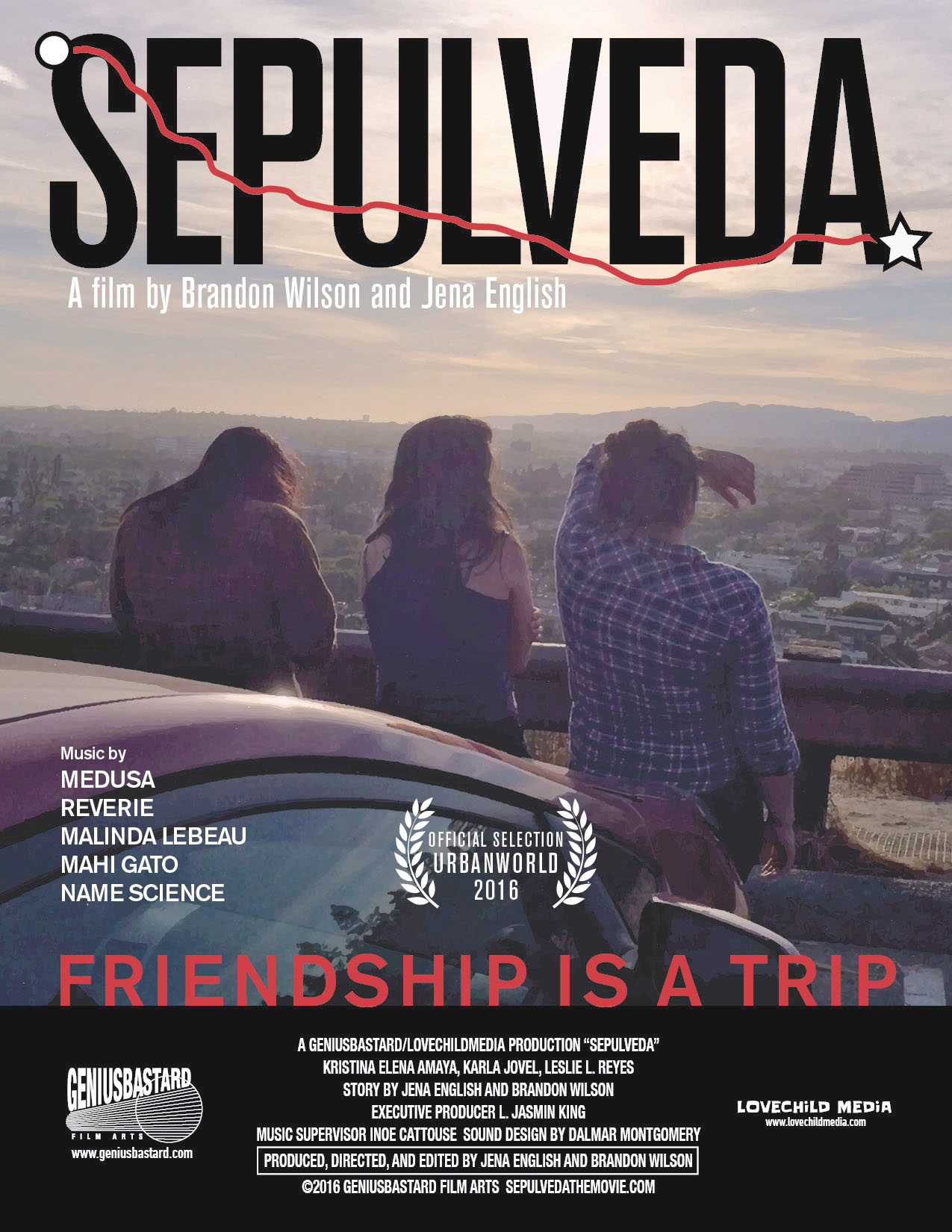 Publications advisor Jena English and her husband Brandon Wilson premiered their second feature film, Sepulveda, at Urbanworld Film Festival in New York on Saturday, Sep. 21 and received a special achievement award from the Culver City Film Festival in Los Angeles after a screening on Saturday, Dec. 3. English and Wilson co-directed, co-wrote, co-edited and co-produced the film, and English was also the cinematographer and co-music supervisor.
Sepulveda centers around three young Latina women in community college who decide to take a road trip down Sepulveda Boulevard. Along the way, they overcome different challenges facing their careers, friendships and lives. English said she hopes many people can relate to the characters' experiences and is pleased when women identify with situations represented in the movie.
"One of the artists on the soundtrack, Malinda LeBeau, said, 'Oh my god, this is exactly what I'm going through right now' because she's 25, which is kind of a point where you're trying to figure out what you're going to do with your life, English said. "It's kind of a chick movie in a way, very feminist, but guys have given us really great feedback, too."
English and her husband initially came up with the concept for the film ten years ago, envisioning it as a sequel to their first feature film, The Man Who Couldn't (2005), but they took a hiatus from the idea to teach until April of 2015, when one of Wilson's former film students reached out to him on Twitter about being featured in the film. Prior to filming,  Wilson and English planned each scene. The actresses, Leslie Reyes, Kristina Amaya and Karla Jovel, improvised the dialogue for a more authentic feel.
"They're themselves and a truth comes out because they're not playing made-up characters, they're playing versions of themselves," Wilson said.
Both English and Wilson had experience in the film industry before they made films together. English started taking film classes in 8th grade and has a BA in photography from Spelman College. English interned at NewLine Cinema in the photography department, and under filmmakers Miguel Arteta and Tim Story. Wilson has an MFA in film from UCLA and was a film teacher at Marshall Senior High School. When they met, Wilson and English decided to combine their interests and make films of their own.
"He had all these scripts, and I was like, 'Oh, I'll be your producer.' No one wanted to produce the scripts because they were so unorthodox, so we decided to just make them ourselves," English said.
Wilson and English collaborated on their first film,  in different roles however, they decided to co-direct and co-produce Sepulveda.
"I knew that she was a great collaborator and I knew the film would be better for having her not just as a cinematographer but also as a storyteller because I think her instincts are excellent," Wilson said. "This is a story about three women in their twenties, and since she was a woman in her twenties, I knew that I needed her point of view, rather than just feeling like I could direct the friendship between three women and do it justice."
The soundtrack to Sepulveda features exclusively underground artists. English and co-music supervisor Inoe Cattouse reached out to their friends in the music industry on Facebook.  After receiving over 60 submissions, in genres ranging from rap to country, they eventually narrowed the playlist to 20 songs. English decided to use underground, alternative music in the film to stray away from popular music typically associated with Latina characters.
"I was in charge of putting [the soundtrack] together because I know a lot of people in the industry…people who are struggling to make it but are really good artists," English said.
Sepulveda is not publicly distributed yet, as English and Wilson are focusing on submitting it to festivals. English and Wilson also just completed a short film and are currently working on a documentary.
"I really like filmmaking, [but] I think it isn't my main focus now. Features are tough; they take up at least a year of your life, so I think that we're going to focus more on shorts for a while." English said.