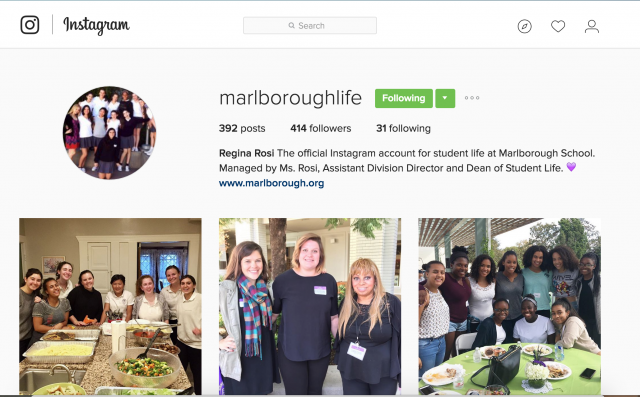 Spanish Instructor, Assistant Division Director and Dean of Student Life Regina Rosi launched the Marlborough Life Instagram in the Spring of 2015 in order to showcase student life and school events for students, parents, alumnae and prospective families. With the account's growing popularity, Rosi will begin posting features of Marlborough students with the hashtag #HumansOfMarlborough. Her goal is to spotlight the successes of students that may otherwise go unnoticed.
"There are so many people on campus with a variety of interests and talents, and many people accomplish really interesting things or are working on a special project that we might not even know about, so it's another way to highlight the amazing members of our community," Rosi said.
Rosi, in collaboration with the School's communications team and All-School Council, is beginning to identify students to be featured on the account. Once identified, the students will answer a series of questions to provide Rosi with more information about that student's endeavors. In the future, students will also have the option of nominating themselves or their friends. She hopes the posts will remind members of the Marlborough community of the opportunities available to them, as well as increase awareness of the wide range of interests students have.
"Marlborough is a really incredible place, and even if you're at Marlborough you might sometimes forget that because you're just going about your daily life… and sometimes we forget about the incredible resources that we have on campus, and the incredible people with whom we get to interact on a day to day basis…and so it stems from a conversation about how do we show both to our community… and to the world at large what…[Marlborough] is all about," Rosi said.