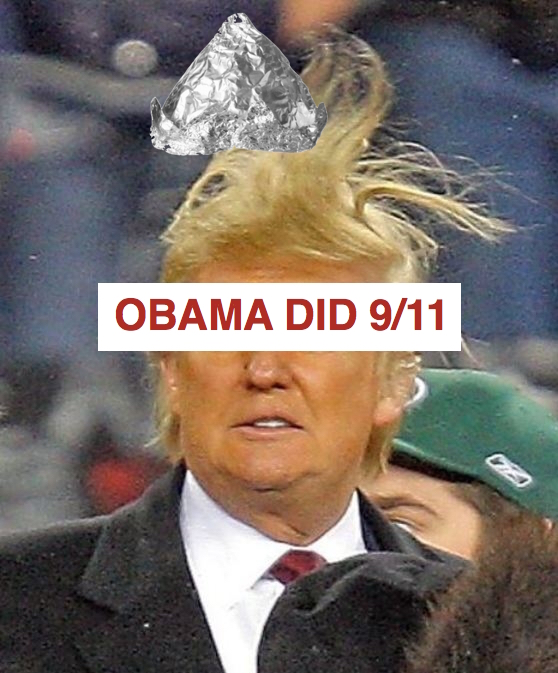 Donald Trump's candidacy is a hotly debated topic nowadays. With election season in full swing, the American public should take the time to get to know its candidates. Donald Trump is notorious for making far-fetched, false, and shockingly vulgar statements. The fact that such a large amount of Americans support him is even more shocking. However, sometimes the things this cheeto in a suit so fervently swears by are so absurd that I can't help but laugh. Here we'll look at some of Trump's most outrageously entertaining conspiracy theories.
1) Obama is a Muslim Terrorist
According to Mr. Trump, Obama wasn't born in the USA.  His given name is Barry Sotoro (or Barry Sowoto, or Barry Soetero), but there's no way we can know because he doesn't have a birth certificate. He also wears a secret Muslim wedding ring with Arab inscriptions reading "there is no God but Allah," which is proof that our president is a terrorist. It turns out that the ring is just inscribed with decorative loop designs that were misconceived to be Arabic writing, but that won't stop Trump because he has 'yuge' amounts of proof! In 2014, the candidate tweeted, "Obama sent weapons through Benghazi to ISIS," as well as a plethora of other circumstantial and even false statements.
2) Ted Cruz's Dad Helped Kill JFK
Trump will go to any length to try to discredit his former Republican primary opponent, yet in some cases his arguments backfire and make him appear to be even less credible. The National Enquirer, a well known (yet unreliable) tabloid magazine, featured a picture of Rafael Cruz and Lee Harvey Oswald enjoying a casual meal together with a headline in big yellow letters stating "TED CRUZ FATHER LINKED TO JFK ASSASSINATION!." Trump voiced his agreement with this theory, insinuating that Ted Cruz's father, Rafael Cruz, was implicated in JFK's assassination. "His father was with Lee Harvey Oswald prior to Oswald's being — you know, shot. I mean, the whole thing is ridiculous," said Trump.
3) Michael The Black Man and Blacks For Trump
This isn't actually one of Donald Dump's theories, but it says a lot about him that his supporters believe this (and he had these people with him on TV!). During one of his rallies, Donald Trump had a group of black people holding a "Blacks For Trump" sign to demonstrate their support. One of the leaders, who calls himself "Michael the Black Man" is a conspiracy theorist who operates based on the principle that president Obama is the "beast 666" who draws his energy from "the dragon snake Oprah." Michael the Black Man is a former member of the murderous Yahweh ben Yahweh cult, which committed several gruesome killings such as a grisly beheading in the Everglades. Mr. Black Man has many websites and youtube channels. In one video Black Man states, "What I got to do now is show the black woman of America that she has to switch back to being righteous and help her men instead of the homosexuals and the hood rats. Damn them. Damn them. I said damn them." What does that even mean?
4) The IRS Targets Christians
Trump is audited by the IRS every year and feels that he is wrongfully targeted due to his religion and his presidential campaign effort. Trump expounds upon his reasoning during an interview on a segment on CNN hosted by Chris Cuomo."I'm always audited by the IRS, which I think is very unfair  — I don't know, maybe because of religion, maybe because of something else, maybe because I'm [running for president], although this is just recently," said Trump. "…maybe because of the fact that I'm a strong Christian, and I feel strongly about it and maybe there's a bias."  Or maybe Trump is surrounded by scandal, giving the IRS rightful suspicion to audit him. Through these comments, Trump is trying to appeal to conservative Christians in order to strike a chord and gain empathy from them.
5) Thousands of Muslims Celebrated 9/11 The Day Of The Attack
Mr. Dump claimed that he witnessed "thousands of muslims" cheering as they watched the world trade center crumbling in New Jersey (although I'm not sure how they saw all the way to the world trade center from New Jersey).  "There were people that were cheering on the other side of New Jersey, where you have large Arab populations. They were cheering as the World Trade Center came down." New Jersey police refuted the bogus claim, but Trump, for once in his political career, stuck to his words. "It did happen. I saw it," Trump stated matter-of-factly.
6) I was Attacked By ISIS
In March, a man tried to rush the stage while Trump spoke at a rally in Ohio. The man was widely applauded by liberals and even went viral on the internet. Trump soon took to his most formidable tool, Twitter, stating that "USSS [United States Secret Service] did an excellent job stopping the maniac running to the stage. He has ties to ISIS. Should be in jail!" Trump cited a parody video as proof of the man being in ISIS, clearly missing the joke. When informed of his mistake, he did not back down, saying  "He was playing Arabic music; he was dragging the flag along the ground; and he had Internet chatted with ISIS and about ISIS… He's dragging the flag, the American flag, which I respect." Upon looking at his twitter page, one will find that all of his ludicrous tweets are still there too.
7) Obama Secretly Married His Male Pakistani Roommate
Trump is really obsessed with wedding rings. In 2012, he tweeted an article claiming that Obama wears an Arab ring (referenced in Theory #1).This article not only asserts that Obama is one of the murderous muslims that cheer when thousands of people die (the same ones that  Trump believes should be kept out of our country), it digs deeper as it suggests that ring was given to Obama by his male Pakistani roommate in college and that they are secretly married.