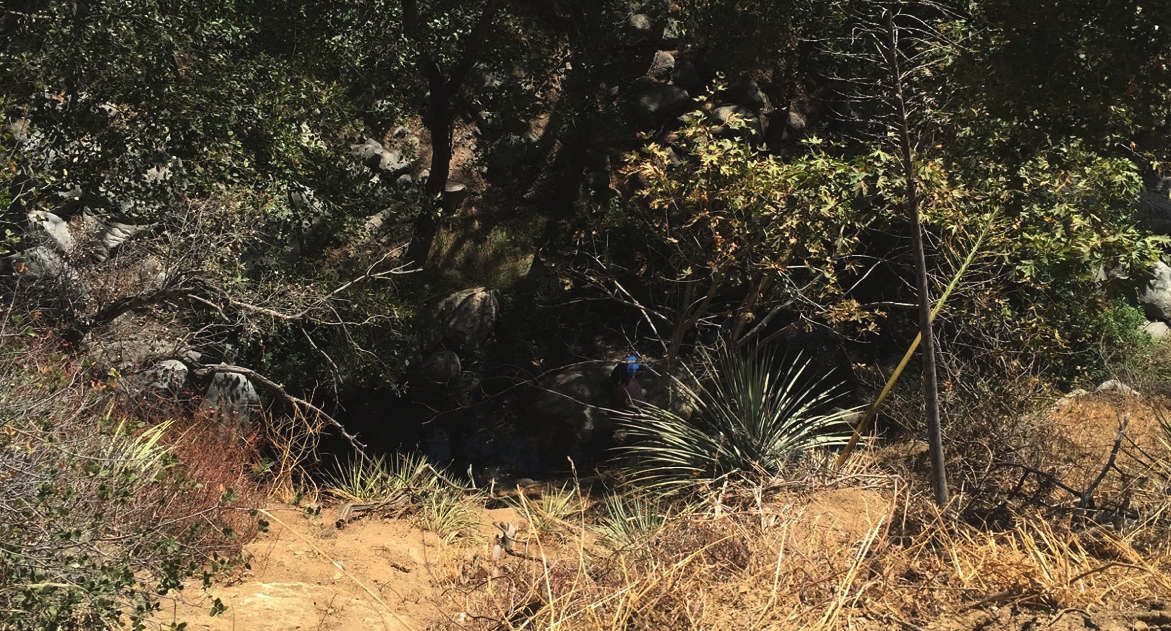 Imagine going on a school hiking trip, thinking it is going to be a normal day, when suddenly the day takes a dark turn, and someone in the group slips and falls down a 75 foot cliff. This happened to Amanda Yuen '18, who had a traumatic experience during her 11th grade Explore LA retreat when she lost her footing and fell into a ravine. On the hike, she was joined by mathematics instructor Melissa Banister, science department head Jennifer Garrison-Ross, Paulina '18, Hazel '18, Kat '18, Maggie '18 and me, Khloe '18.
We had just hiked the Hermit Falls trail, which is about two and a half miles round trip. The accident happened on the way back up the path, where the walkway was very narrow, so everyone had to walk single file to make sure they wouldn't fall off. Amanda was walking along when by accident she lost her footing.
Amanda later recalled the event.
"My left foot made contact with the ground, and my right foot slipped," said Amanda which caused her to fall. In a frantic hurry, she tried to grab onto anything around her but then decided not to.
"[I realized] if I grabbed on to something, I would have to let go of it later, and that would be even scarier," said Amanda about trusting that it would be better to let herself slide down. As she went down, the front of her body scraped against the rocks, going so fast, that as she looked up, she could no longer see us because a cloud of dust consumed her line of sight, making her absolutely terrified.
"I started screaming at first, but then stopped because there was too much dust in my throat," Amanda said.
The rest of us screamed Amanda's name as we witnessed the horror of her fall for what felt like forever.
"It felt like ten seconds, but I had no measure [of time]," she said. Luckily, she landed upright in the creek below her, and quickly sat down on a rock. Amanda then let out an ear-piercing scream, because at first, she wasn't sure if she she was in shock, or if her body was injured.
Meanwhile, since we were in a no reception zone, Mrs. Banister sprinted up the hill to go find someone with reception to call 911; Mrs. Garrison-Ross desperately tried to find a way to get to Amanda without hurting herself.
While this was happening, all of the other girls and I were trying to call 911 to tell them that our friend had just fallen down a cliff, but the line kept dropping. We finally reached them, and they transferred us to a local station when the line went dead. Soon after, Mrs. Garrison-Ross called up to reassure us that Amanda wasn't severely hurt, but only had some minor cuts and bruises up the front of her body, and there was no need for paramedics.
Amanda and Mrs. Garrison-Ross finally managed to make it back up to where the rest of us were, when we heard sirens blaring in the distance and our eyes got wide as we realized they were coming for a Amanda, who didn't need them anymore. We walked a little farther up the trail, when all of a sudden, the wind began to pick up, and in the distance a very loud engine could be heard; a helicopter was flying over our heads using a megaphone trying to call out to our group. When the helicopter finally found us, it hovered directly above us, blowing wind in every direction, before airlifting a paramedic down to check on Amanda.
We huddled together, grabbing onto one another, hugging the side of the cliff to make sure we wouldn't fall off because of the strong winds.  We couldn't even open our mouths to scream out over the noise, because of all the dirt and leaves that would get into our them and on our teeth. We pushed our hats and glasses over our faces to cover them from the harsh objects flying around in the wind. When the paramedic finally reached the ground, we let go of each other to see that we were covered in dirt and leaves from head to toe, with twigs stuck in our hair and our clothes.
After Amanda was checked by the paramedic and given the "OK" to keep going, we walked back up the trail, where we were met by firemen who walked us back up a different path to a road so we could be driven to the our car. There, we found ambulances, paramedics, the sheriff's department, forest services, and pretty much anyone they could find to help Amanda out. They took her vitals again, and after a while, they finally let Amanda go, and we drove back to school. Amanda says it was "the scariest moment of my [her] life," and that she hopes it never happens to anyone else.