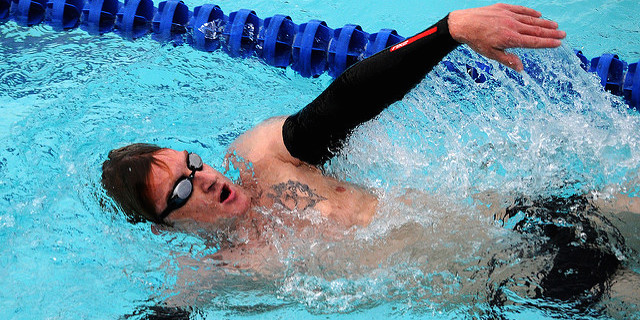 September 7, 2016 was the opening ceremony of the Paralympic games in Rio, but for American swimmer and US Navy veteran Bradley Snyder, it also marked the 5th anniversary of the date he lost his eyesight when he stepped on an Improvised Explosive Device (IED) during his deployment in Afghanistan. Snyder underwent many facial surgeries in an effort to save his sight, but in the end both his eyes were removed. He has two prosthetic eyes which are painted to look like his sister's. Snyder's Paralympic debut was in 2012 at the London Games.
At the 2012 games, he raced on the first anniversary of the accident and won gold in the 400 meter freestyle. He came home with a total of three medals: two gold and one silver.
In the 2016 Paralympics, Snyder raced in five events and won three gold medals (in the 400 meter freestyle, the 50 meter freestyle and the 100 meter freestyle) and one silver (in the 100 meter backstroke). Not only is Snyder coming home with five medals, but he shattered the 30-year-old world record in the 100 meter freestyle.
The Paralympic medals have features to help Snyder and other visually impaired athletes distinguish between the colors. When shaken, each color makes a different sound, enabling athletes to hear the color of the medal.
Snyder commented on the medal design in an interview with NBC.
"As a visually impaired swimmer, it's really special that they incorporated in the design of the medal an actual individual, unique to each color, sound…I can actually hear it, and I can tell the difference between my gold and my sliver Coming out of London, I had two golds and I had mixed them up in my bag and I didn't know which one was for [which] event, so this go around, they're very unique and allow me to tell the difference between the two which is a lot of fun," Snyder said.
According to Sports Illustrated, Snyder hopes to use his public image as a Paralympic athlete to bring awareness to veterans' transitions to civilian life. He says he wants to bring veterans' problems into the forefront of the American consciousness and improve the speed with which veterans are treated and discharged.