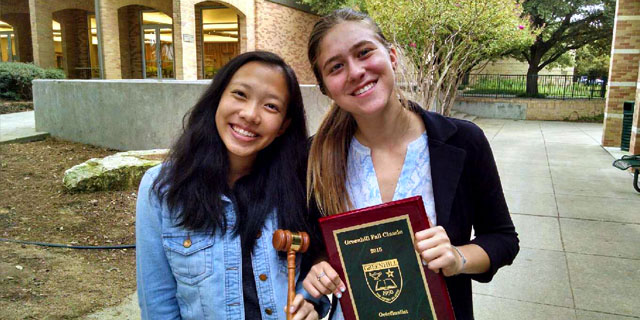 The Marlborough School Lincoln-Douglas debate team finished a successful year, advancing far into several tournaments and breaking several school records.
The Lincoln-Douglas style debate team of twelve members, now in its fourth year, is more active than ever. After 121 tournaments this year, making up 178 hours of competitive speaking in addition to hours of preparation, the debate team has found unprecedented success.
Among the more experienced debaters, co-captain Annie '16 repeated as the first ever Marlborough student to qualify for the Tournament of Champions (TOC) the final and largest national tournament of the year. Annie qualified for the TOC last year as well, but she qualified much earlier in the season this year.
Other team members excelled as well. Co-captain Grace '17 and Lily '17 both had chances to secure TOC bids and will look to gain them next year. The team, as a whole, found greatest success at the Harvard Westlake tournament in November and the Alta tournament in December. At both tournaments, four varsity debaters advanced to elimination rounds.
Following in Annie's footsteps, Sophia '19, one of the team's younger members, took first place in two tournaments this year, breaking a record by becoming the first Marlborough student to win more than one tournament in one year.
Kim said she was impressed with Sophia's success this year, especially considering the fact that Sophia is in the novice field.
Novice team members Sophia, Grace '19 and Kylie '19 went to the Woodward Nationals in Atlanta, GA, in March. The team won two speaker awards. In addition, Sophia reached the semi-finals.
Debate team coach and history and social sciences instructor Adam Torson praised his team for its growing independence and dedication.
"This is the first time that we have a senior that started at the beginning of the program and [has] gone all the way through to the end of the program, and so it was very fun to see us evolve from a small, getting-underway type of team to a really nationally competitive team," Torson said.
Torson said that the team was more coach driven when it was created since students were just starting and had little direction from older students. He explained that it is gratifying to watch the more experienced debaters work together and do more work and research without instruction.
"That's a cool dynamic because it means that the team is working together to engage in the type of thinking that debate requires you to do as opposed to being commanded to do it," Torson said.
The debate season is now over for everyone on the team besides Annie, who is currently preparing for the TOC, which will take place April 30 through May 2. In addition to being the only Marlborough student to qualify for the TOC, as Annie leaves Marlborough, she will be remembered for being the first person to debate for the Lincoln Douglas team all four years of high school. Annie reflected on her debate career at Marlborough.
"I've loved doing debate at Marlborough for the past six years. It's been incredible watching the Lincoln-Douglas team grow since its inception four years ago. The team has grown really close and I've gotten to know many younger girls that I probably wouldn't have met otherwise," Annie said.
According to Lily, the season ended well, and she has high hopes for next season.
"I feel like the season ended really well for us this year. We spent a lot of time working on making our cases, developing the arguments we were going to run, and figuring out the best things for us to say and do," Lily said.