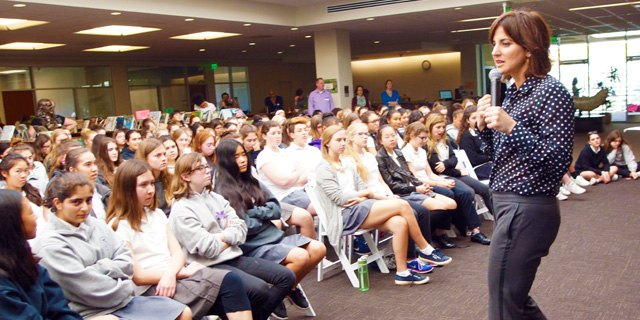 On Tuesday, Mar. 1, 2016, "Odd Girl Out" and "The Curse of the Good Girl" author Rachel Simmons spoke to Marlborough students of each grade about the constant pressure to be successful for modern-day girls both socially and academically. Simmons visited the School before in October of 2011 to speak with students and parents.
Head of School Priscilla Sands, who invited Simmons to visit her former school multiple times and wrote her dissertation on Simmons' bestseller "Odd Girl Out," said that she thinks Simmons' story of being a Rhodes Scholarship dropout is important for girls to hear.
"She spends a fair amount of time talking about how she's coped. What I think is important is that out of what appears to be a failure can come some incredible opportunities," Sands said. "She's very open about the story of her breakdown and not completing her Rhodes Scholarship and having to hear people say how disappointed they were in her, but out of that experience came a bestselling book."
Simmons debunked the myth that being hard on oneself makes a person more motivated to succeed.
"It comes from an incorrect belief that self-criticism increases motivation," Simmons said. "So sure, you can be self-critical and be highly accomplished, I was for many, many years, but it's the scientific equivalent of running with a backpack of bricks on your back. It's just going to make it that much harder for you to succeed."
According to Simmons, the research indicates that self-criticism is actually counter-productive. It depletes motivation and increases symptoms of depression and anxiety.
Simmons shared her tips for learning to be less self-critical. The key is to practice mindfulness, self-kindness and common humanity.
She also encouraged students not to equate happiness with success.
"Being successful doesn't make you happy; it just makes you successful… Being extraordinary, being special, getting into a great school, I mean all of that is awesome, but it doesn't really matter if you are constantly beating yourself up for not being good enough and if you don't know why you are doing any of it in the first place," Simmons said.
Simmons explained that social media adds even more pressure to teens' lives because the emphasis on appearances makes it harder for people, especially teens, to separate the knowledge that the pictures they are seeing are edited and posed and are not a reflection of that person's true reality.
"You don't want to compare your insides to someone else's outsides…Don't compare who you really are and what you really feel like to the idealized self that someone is putting out on social media because you will lose," Simmons said.
Her advice for avoiding this comparison is "no lurking," which basically means looking at others' profiles and pages, but not putting out any content of their own.
The reactions to Simmons' visit varied among students. Some students, such as Lauryn Tauber '17, said they thought Simmons' talk did not reflect the atmosphere that exists within Marlborough.
"I thought it was ironic that this was at Marlborough because we all have to get into college, we all have to overachieve just because of the nature of our society. If I stop overachieving and everyone else continues to overachieve, then all I know is that I am not getting into a good college," Tauber stated.
Other students, such as Dominique Calhoun '18, had a different perspective on Simmons' message and said they thought the speech was "cool."
"It was inspirational and encouraging, honestly, to see what she's been through and then seeing all she's accomplished, given what she's been through," Calhoun said.