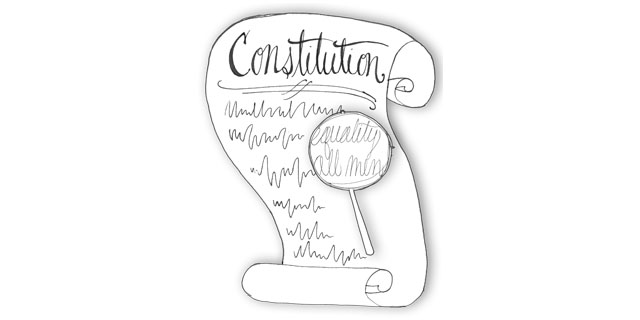 Do you know that 72 percent of Americans believe that women already have equal rights under the United States Constitution? In reality, the Constitution of the United States does not explicitly prohibit discrimination on the basis of sex. As a result, women are not afforded the same protections under federal law as men.
As shocking as this seems in 2016, a simple solution has already been proposed. Passage of the Equal Rights Amendment (ERA) would rectify this fundamental inequality in our laws. The ERA proposes that "Equality of rights under the law shall not be denied or abridged by the United States or by any state on account of sex." This single sentence was written by suffragist leaders Alice Paul and Crystal Eastman in 1923. Almost 50 years later a bill incorporating this language was introduced as the Equal Rights Amendment but fell three states short of ratification in 1982. Today the ERA still has not become the law of the land.
All Americans need to know this fact: discrimination based on sex is not prohibited under our Constitution! Even today girls and women face discrimination. Title IX, the Equal Pay Act and laws preventing pregnancy discrimination have been passed, but unfortunately these laws can be repealed or ignored.
March was Women's History Month, and it highlighted the importance of educating ourselves about our rights and our ability to take action. We all need to work to support passage of the ERA. We can begin by talking with our own circle of family and friends, letting them know the importance of this issue and the need to make the ERA law. The ERA would have a major impact on issues as wide ranging as women's wages, incarceration, and health care discrimination.
A full 97 percent of Americans believe that men and women should enjoy equal rights under the law. No matter what gender someone identifies with, passage of the ERA would afford equal protection under the law. If our constitution truly reflects our country's core value of equality for all, this should be stated clearly and incontrovertibly in the document itself. This is a human and civil rights issue. Americans overwhelmingly support equality of the sexes, and passage of the Equal Rights Amendment will codify this fact.