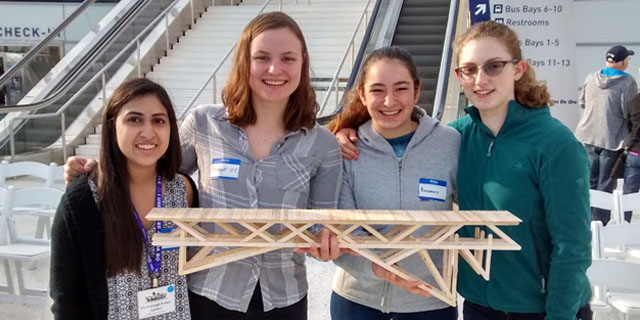 Marlborough's Bridge Building Club participated in a competition with 100 teams from the L.A. area on Saturday, Feb. 20 at the A.R.T.I.C. Stadium in Anaheim. In addition to having to build a bridge with nothing but popsicle sticks and glue, students had to write a technical report, give an oral presentation and participate in an impromptu engineering challenge the day of the competition.
The team managed to build a bridge that held about 70 pounds.  Science instructor and club advisor Lisa Ellis expressed her respect for the group.
"Although we did not place, I am proud how our girls did considering that they built their bridge during lunches, while also trying to eat lunch. Some other teams had class time to do their work. In addition, the team had a great time," Ellis said.
The Bridge Building Club, now in its third year, consists of Anisha'16, Caroline'18, Anne-marie '18 and Bridget '18. Students collaborate over a two-month period to prepare for this annual bridge-building competition held by the American Society of Civil Engineers.
Anne-marie said testing their bridge for the first time was a highlight for the team.
"Even though our bridge didn't end up holding much weight, it was the moment of truth for our bridge and the culmination of all our hard work," Anne-marie said.
Ellis explained that while the club is open to all students in grades 9-12, it is geared towards people who are interested in working together through a process to make a collaborative and effective design.
"I think if you are interested in engineering, working in a group to solve problems, as well as going through the process of designing something, [the club] is a great opportunity," Ellis said.
Bridget said she has gained many beneficial skills through her participation in the club.
"There is a lot of critical thinking and delegating tasks involved," Bridget said. "It takes a lot of teamwork that is necessary in order for us to collaborate, and we get to be really creative in our design."
Bridge Building Club members learned a lot from the experience, and they are determined to succeed next year.
"I think we learned a lot about how to improve our bridge and what strategies work well by watching other teams. We learned a lot, and I know we'll do even better next year!" Bridget said.