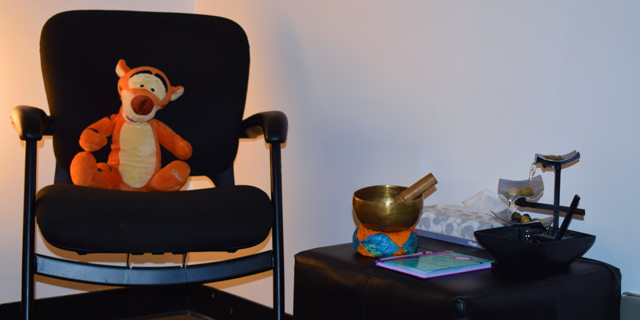 With the help of the Mindfulness at Marlborough committee, school counselor Emily Vaughn created a small meditation room at the beginning of this school year with the hope of incorporating mindfulness into students' everyday lives and giving them a quiet space to de-stress.
The meditation room, located behind Vaughn's office in C200A, features dim lighting that helps set the tone for a peaceful environment. The room is decorated with large pillows for sitting and meditating and includes coloring books for drawing, a small water fountain and a suggestion book to write personal thoughts. There is also a board with ideas on how to meditate and a large picture of the ocean to help create a tranquil setting.
Vaughn and the mindfulness at Marlborough committee have had difficulty finding a good place for students to relax on campus and meditate.
"We have been trying to find ways to bring more mindful practice to school and kept talking about how hard it is to just find a quiet space on campus." Vaughn said.
The meditation room is open to anyone on campus. Vaughn stressed the importance of the room not as a place  to study, talk or hang out, but as a place to relax.
Vaughn said she hopes to continue adding more mindfulness to Marlborough by incorporating different practice and study methods.
"It's a way to have a moment to reflect on what is good about life and not just 'what I have to do next,'" Vaughn said.
Anisha '16 uses the meditation room a lot during breaks, in between classes, when she is stressed or has a little bit of time on her hands. Her favorite thing to do in the room is relax by coloring in the drawing books.
"I like that [the school] recognizes that the students have stress and are trying to do something to fix that, so I definitely appreciate that," Anisha said.
Anisha said she hopes that more people will take advantage of the meditation room and that it won't get lost in the everyday chaos of Marlborough.