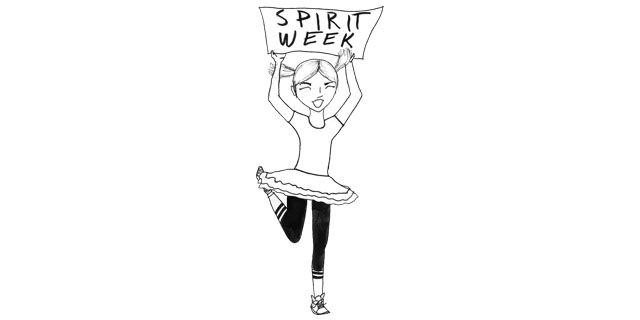 This year's Spirit Week Dance-Off was the best in the tradition's six-year history because of the emphasis on community. In the past, competition among grades got in the way of school spirit, but this year's Dance-Off strengthened communities on more levels than ever before – grade-wide, school-wide and city-wide.
Never before have all six grades' Dance-Off performances blown me away with their spirit and skill. The impressive choreography and synchronization in the dances showed that classes came together as never before. The seventh graders set the bar high when they won the crowd over with their energy and coordination. The dances that followed did not disappoint, from the freshmen's fiery performance to the juniors' body-suit theatrics. The seniors' winning routine, with participation from all advisories and a class-wide finale, displayed Spirit Week at its best—a class rallying together and exceeding expectations. Believing in the grade's ability, our devoted council members helped our grade overcome past Spirit Week flops. The extra hours of rehearsal this year helped classes put together impressive routines that boosted class spirit levels to new highs.
As grades cheered each other on, the Dance-Off increased school spirit too, filling the gym with a community energy. Heading into the competition, girls knew that judges would reward classes for showing each other support, and girls embraced the extra incentive. After the finale of each dance, the gym erupted in applause. Awe at other dances inspired admiration rather than competitiveness. All-School Council capitalized on the spirit of community, before the results were announced, when they read excerpts from grade deans describing each class's accomplishments and growth from the week. The solo dance-off organized by all-school assembly coordinator Natalie '16 between all-school athletics representative Tyra '16 and Bria '21 was the perfect way to lead up to the announcement of the results. Though both girls rocked their solos, it was their impromptu dance routine together that highlighted the community spirit of the day.
The announcement of the freshmen's overall Spirit Week victory showed that the week was about more than just the dance. Their winning total was thanks to their community service efforts throughout the week. Through participation in charitable drives each day, the School collected an immense volume of donations for people in need throughout Los Angeles. The Dance-Off brought the School community together to support each other and support others.