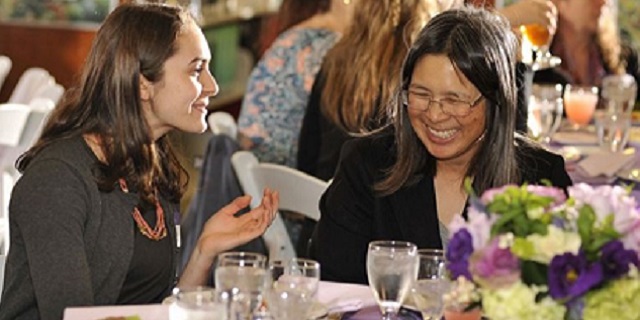 The annual Leonetti O'Connell Honors Research in Science Student Science Exchange will take place during the school day on Friday, Feb. 19 with presentations from student research and a panel of women in STEM professions. The 18 seniors and juniors who are working on Honors Research in Science will present background on their research and share their results from 8:00 a.m. to 10:30 a.m. in the Collins Room and in the Board Room. Students and faculty are invited to watch the presentations. Registration for the event is online at the symposium's website.
Following the student presentations, a "Meet the Expert" panel of women with careers in science will answer questions about their fields. The panel will take place during Office Hours, from 10:45 a.m. until 11:25 a.m. The guests on the panel will be Mary Ellen Cosenza PhD, a consultant at NDA Partners LLC and former Executive Director of US Regulatory Affairs and Executive Director of Emerging Markets for Amgen Inc.; Jill McNitt-Grey PhD, Professor of Biological Sciences and Biomedical Engineering, USC; and Lanita Scott '84 MD, Global Senior Medical Director at Santen Pharmaceuticals.
Students who participate in Honors Research in Science spend at least eight hours per week researching a STEM subject they are passionate about under the mentorship of a field expert and write a research paper by the year's end. Research topics this year range from Morgan '16's study of 3-D computational modeling of tumor cells to Brooke '16's study of stem cells in cardiovascular disease.
Caroline '16, who organized the event along with other second-year Honors Research in Science students and is researching the joint kinematics of paralympic sprinters, said she is looking forward to giving the greater Marlborough community a glimpse into the work of Honors Research students.
"I'm really excited for the symposium because I like that we're bringing it to Marlborough," Caroline said. "I'm really excited to get other people involved."
Honors Research in Science advisor and science instructor Elizabeth Ashforth said she believes both Honors Research students and symposium attendees benefit from the exchange. She hopes to see students fill the room to learn about their classmates' research.
"We hope that by organizing and speaking at a symposium, the Honors Research students will gain insight into a facet of how science operates in the real world beyond the actual bench research," Ashforth said over e-mail. "This year, for the first time, we have a panel of women to talk about their outstanding scientific careers. I'm very excited about this opportunity and hope that our students will take full advantage of it."
The event's schedule can also be found on its website.