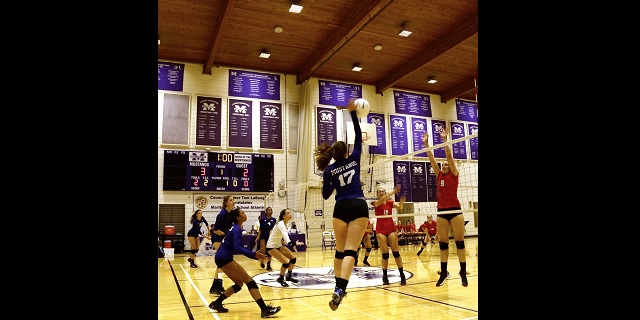 Grace '17 won the Most Spirited Player award at the Fall Sports Banquet on Wednesday, Dec. 2 for her participation in and dedication to the Varsity Volleyball team.
The Most Spirited Player award is for the team member who displays the most team spirit and Mustang pride during the season.
Atlee actually dedicated her award to Annabel '17 and Carmina '18.  She said that the three of them were always trying to raise the spirits of the team and support the players on the court while they were on the bench.  Gracie used the engraver that she had at home to put in their names.
"We did chest pumps when we got points.  We rolled around on the ground a lot.  Mostly we just screamed," Gracie explained.
Gracie plays the positions of outside hitter, middle blocker and opposite hitter.  Gracie said that she thinks she improved her volleyball skills. She increased the height of her vertical jump.  She also said that she was able to hit the ball harder and with more accuracy.
"I think I improved as player and also as a teammate because I always tried to have positive energy and support my team no matter how I felt," Gracie said, reflecting on her performance this past volleyball season.
The Varsity Volleyball team placed fifth in the Mission League, with many narrow losses to competitor schools like Marymount and Notre-Dame High School.