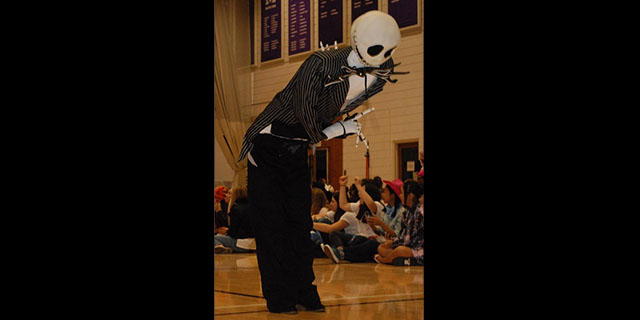 All-School Council hosted the School's annual Pumpkin Day celebration on Friday, Oct. 30 in the Combs Gymnasium. The School community gathered to partake in and watch the long-standing Junior Class v. Senior Class dance competition and costume parade and contest.
Using its year-long theme of superheroes, the Council awarded prizes in five categories ranging from "Most Villainous," awarded to the scariest costume, to "Strongest Team," awarded to the best group costume.
Six of the new faculty members volunteered to participate as parade judges, choosing the winning costumes for each category. Notable contest winners included Shira'18 and Ellie'18 as Sia and her chandelier respectively (winners of the "Partners in Crime" category) and Kendall'19 as an eight-foot-tall Jack Skellington (winner of the "Super DIY" category).
Science instructor Melissa Morlok, who was a parade judge, thought the Super DIY category was the most memorable.
"We were really impressed by the homemade category. I think that was the hardest one to judge. Most notably, I remember the gumball machines, of course, the Jack Skellington, which won, and the circus animal cookies. Those were all really creative," Morlok said.
The Junior Class kicked off the "dance-off" with choreography to Taylor Swift's "Bad Blood" and Gwen Stefani's "Hollaback Girl," while the Senior Class followed with a Drake-themed routine.
Although there was no declared winner, sophomore Jordan'18 said she thought the seniors won.
"The Seniors obviously [won] because they seemed more prepared and had more dancing. I really liked the Drake-theme; it was a good one," Jordan said.
The celebration ended with an All-School dance party led by council members, class deans and faculty and administration members.
Emma '19 said she thought the dance party flowed well with this year's All-School core value.
"[The dance party] was definitely welcoming. As a new ninth grader, I felt like I was a part of the school [community]," Emma commented.
After the glow-in-the-dark dance party, the Parents Association treated students to Bennett's Ice Cream in South Plaza.