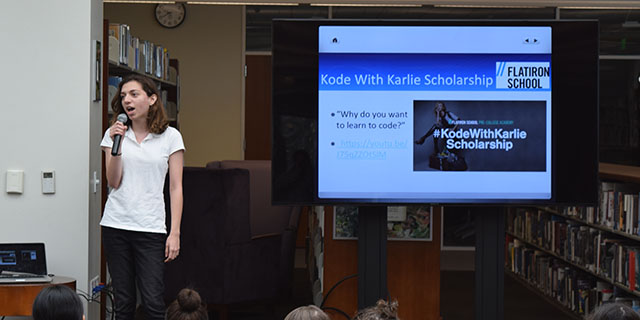 The 2015-2016 school year thus far has seen significantly fewer Morning Meetings at Marlborough than last year because of some of the feedback that the School received about the meetings last year. According to Dean of Student Life and Spanish instructor Regina Rosi, although the feedback for the morning meetings was generally positive, many students expressed that they would like to see these meetings take place less frequently. As such, there have only been four presentations, compared to the ten meetings that took place in the first semester of the previous school year.
However, there was still the question of what activities would accommodate for the decreased meetings. The solution was the increase in extended advisories and the initiation of the Global Awareness Program (GAP), which was conceived by Lindsey '16.
The stories shared by each presenter continue to follow the theme of education and social awareness that has been prevalent in the majority of meetings that have taken place in the last year.
On Sept. 30, world language instructors Eric Reinholtz and Elizabeth Vitanza gave a joint-presentation to the Upper School on logical fallacies and linguistics for the first morning meeting of the year. With the ongoing political debates and upcoming 2016 presidential election, they thought it would be informative and interesting for students to be able to recognize subtleties in the English language and rhetoric to form their own opinions on important political matters.
"When you give some lecture or talk about something, every student should be able to put something in her pocket," Reinholtz explained. He aimed to inform students about how to discern a logical fact from a logical fallacy and to know when a fact is irrelevant to the question at hand.
On Oct. 7, Annie '16 and Christina '16, inspired by 2011 Nobel Peace Prize Laureate and women's rights advocate Leymah Gbowee's speech on finding the humanity in others, gave a presentation on gender identity and expression. In addition, English Co-department Heads Deborah Banner and David Long as well as history and social sciences instructor Cathy Atwell shared their personal stories about gender roles and expression in an effort to show their students how they could confront a situation in which another person may have an opinion that differs from her own.
"We feel that in Marlborough we're kind of in a bubble with a lot of people that share our same beliefs, so we wanted girls to be able to have a chance to think about what they would do in [those kinds of] situations," Annie said.
On Oct. 28, Mickey '16 showcased her skills and achievement in hip hop dance, highlighting her win in the Hip Hop International 2015 National Championships in San Diego over the summer with her dance crew, Miniotics, and explained the various styles, techniques and categories of hip hop dance.
"I felt like the Upper School would appreciate some hip hop education since we all hear and dance [to] hip hop daily," Mickey explained.
She also showed videos displaying different styles of hip hop and demonstrated her own skill with a brief freestyle dance.
On Nov. 11, Bea '16 shared her story about being one of 20 girls chosen out of 700 applicants for the Kode with Karlie Scholarship, sponsored by fashion model Karlie Kloss, to the Flatiron School, enabling her to attend a coding class as a once-in-a-lifetime opportunity over the summer. She demonstrated some of the coding she learned, and encouraged students join her new coding club that meets on Thursdays at lunch.
"Before my program, I had been skeptical that anybody could have a life-changing summer program, but then I went, and I had this incredible experience," Bea said.
Bea's presentation was followed by mathematics instructor Darren Kessner, who expanded on the theme of coding, and then juggled clear, homemade clubs with rods of colorful LED lights that he programmed to flash vibrantly inside.