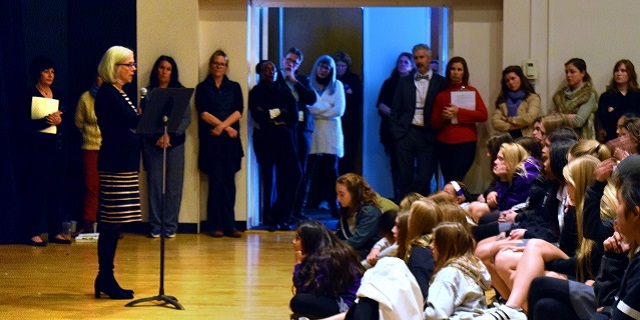 Head of School Priscilla Sands said at an All-School Meeting on Monday that former English teacher Joe Koetters pleaded guilty last month to four charges of sexual abuse against students and that the School is actively working to prevent sexual abuse from occurring again in the community.
Sands said that she wanted students who had not read or heard the news about Koetters's sentencing to learn the news from her.
"It's a terrible thing that happened, for our community, for our School, but mostly it's terrible for the young women involved," Sands said, adding, "I can assure you we're doing everything we can to make sure that something like this doesn't happen again."
Koetters began serving a one-year sentence in county jail on Nov. 13 after pleading guilty on Oct. 21 to four charges of sex crimes committed against two students while teaching at the School in 2000 and 2004, according to an L.A. Times article. Koetters will receive five years of probation and be prohibited from teaching.
Marlborough is facing a civil suit brought by the first victim whose lawsuit says that Marlborough was made aware of Koetters's misconduct by students but did not properly investigate.
David Ring, who represents the alumna in the civil suit and both women in the criminal proceedings, told the L.A. Times that he thinks Koetters's plea deal is a just outcome for the women. Koetters faced up to 11 years in jail for 14 charges of illegal sexual acts with the two alumnae, who were both 16 years old at the time.
Sands made a statement to Business Insider after the announcement of the plea deal.
"We are grateful to the courageous alumnae who came forward, as well as law enforcement and the district attorney's office for bringing Dr. Koetters to justice," Sands wrote. "There is no greater priority at Marlborough School than the safety and well-being of our students. We hope this resolution will help the women involved continue to heal."