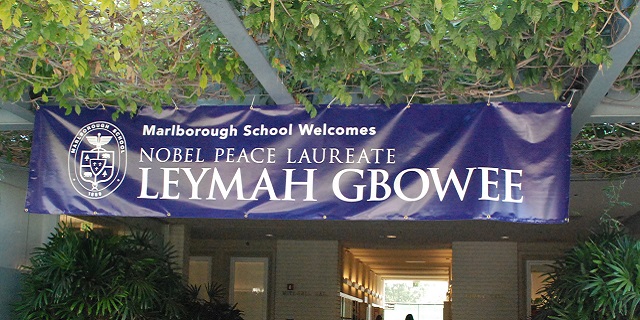 On Tuesday, Oct. 6, Marlborough will welcome Liberian peace activist and Nobel Peace Prize winner Leymah Gbowee. She will speak at an All School Meeting followed by a lunch for the members of Girls Go Global.
From 1999 to 2003, the Second Libertarian War was a result of economic inequality and divided social rivalries between different racial groups. During this war in Liberia, Gbowee was the working as the leader of the organization, Women in Peacebuilding Network (WIPNET). She believed that women were being completely ignored amidst the turmoil in Liberia.
"We are tired of war…We are tired of our children being raped. We are now taking this stand, to secure the future of our children. Because we believe, as custodians of society, tomorrow our children will ask us, "'Mama, what was your role during the crisis?"' Gbowee explains in her book, Mighty Be Our Powers.  
Gbowee took actions to represent women during the war. For months on end, she guided hundreds of Christian and Muslim women to Monrovia, the capital of Liberia, to pray for peace. They defied the orders of the president, Charles Taylor, by continuing their non-violent protests, even occupying large soccer fields and hotels. Finally, President Taylor granted the women a hearing. After a series of protests led by Gbowee, the war ended and the first female president of Liberia was elected in 2005.
Gbowee now advises the United Nations and has served on many boards and committees. Aside from her Nobel Prize, Gbowee has been honored with several awards such as the John F. Kennedy profile in courage award.
Cathy Atwell, Instructor of History and Social Sciences, met Gbowee in New York at the United Nations Commission on the Status of Women conference last March. When Atwell heard her speak, she knew she had to bring Gbowee to Marlborough because of her idea of resilience.
"Dr. Sands has been blogging about the need for resilience and that message is one that I find very important as an educator. I think Ms. Gbowee really has important things to say on that topic," Atwell said.