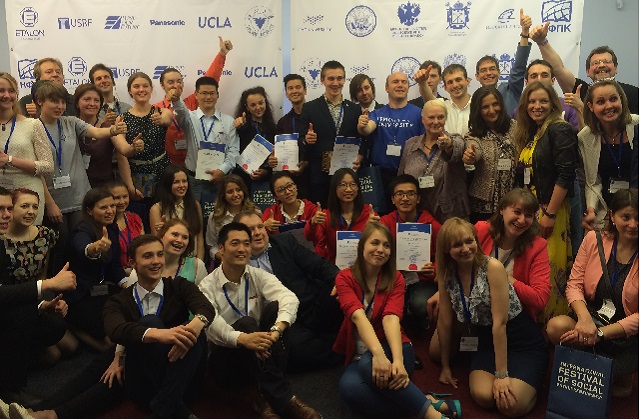 This summer, I had the opportunity to intern at the International Festival of Social Entrepreneurship, an annual event held by the Saint Petersburg State University of Information Technologies, Mechanics, and Optics (ITMO) in Saint Petersburg, Russia. Bringing together students from universities all over the world to develop their business and entrepreneurial skills, organizers at ITMO conduct this international festival to encourage universities worldwide to integrate project-based learning methods into educational and entrepreneurial programs. I served as UCLA's reporter and intern during the conference.
Twelve teams of students brought already-made social entrepreneurship projects and presented them at the conference, after which they worked with peers and faculty in order to improve upon their work. These projects focused on improving the quality of life for people in a vast array of areas. Ideas ranged from working with a non-profit called PATH to end homelessness in southern California by constructing affordable, permanent housing developments for individuals and families, to providing better teaching tools for Chinese schools, such as 3D printers to modernize and enhance the learning experience for children. Throughout the week, students worked together to upgrade their projects. Teams confronted issues ranging from overcoming language barriers to discussing the commercial and social aspects of their projects, in preparation to pitch their ideas to a panel of judges at the end of the week.
The twelve teams participating were composed of students from each of three universities: Zhejiang University in China, University of California, Los Angeles (UCLA) in the United States and ITMO University in Russia. The students not only worked with one another to improve their projects, but also with three professionals; Andrew Atkeson,­­­­­ the Stanley M. Zimmerman Professor of Economics and Finance at UCLA, Archie Holton, co-founder and Chief Executive Officer of Odyssey Experiences and staff member for the Academies for Social Entrepreneurship at UCLA and Zhu Zuoxiang, counselor of Ziyun Bifeng Campus Youth League Office. I took photos and wrote an article summarizing the festival to be published on UCLA's website.
During the festival we also spent days sightseeing in the beautiful cities of Saint Petersburg and Peterhof in Russia. We visited Peterhof Palace and explored the palace gardens in the rain, toured the famous Catherine's Palace, took a walking tour of Saint Petersburg, visited beautiful churches and museums like the Hermitage and went on a boat tour during a "white night" (nights when the sun sets for just a few hours). Perhaps most importantly, I formed friendships with amazing people from China and Russia. Attending this conference was an unforgettable experience, and a trip that I will cherish forever.