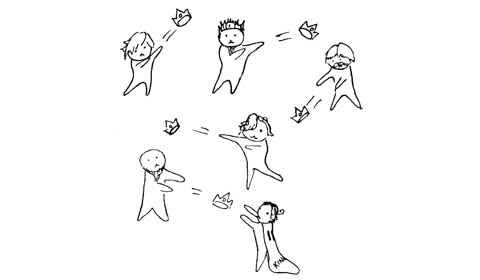 By Annabelle '15 and Sarah '16
Prince Salman bin Abdulaziz, who was governor of Riyadh for 48 years and defense minister as of 2011, ascended to the throne as the new king of Saudi Arabia on January 23, 2015 after the death of King Abdullah bin Abdulaziz, who had ruled since 2005.
The country's absolute monarchy has been ruled by the Al Saud family ever since the sovereign nation's founding in 1932, with a line of kings succeeding from King Abdulaziz Ibn Saud. However, the death of Abdullah marks the approach of the end of the string of the first generation of royal sons.
Salman's recent changes to the structure of Saudi Arabia's political branches and the already dominating presence of political power-holders and future kings from the new generation present many unanswered questions regarding the future of social and economic reforms within the monarchy that have the potential to alter Saudi's relationship with the U.S. and other countries.
The relationship between Saudi Arabia and the U.S. has strengthened over time through the strong economic ties that have been formed due to Saudi Arabia's role in oil production and stability in the Middle East.
With Saudi Arabia welcoming a new king and facing the future of a new generation of kings, the efforts of both the governments of the U.S. and Saudi Arabia could be altered as they face complications in continuing human rights movements and combating terrorist organizations. What was the extent of Abdullah's social reforms? What could threaten Saudi Arabia's political stability? What characterizes Saudi Arabia's alliance with the U.S., and how does Islamic extremism influence the country itself and its relationship with the West?
MODERN REFORM
Abdullah was hailed by many Saudi citizens for the implementation of various reforms during his reign. Under Abdullah, the country held its first ever city council elections, and Saudi women were granted more rights and opportunities in the workforce. In 2005, Abdullah launched a campaign that involved collaboration with Saudi media and mosques to educate Saudi citizens about the danger of extremism. Perhaps most importantly, Abdullah was a pioneer in altering the country's financial operations, investing some of the country's oil wealth in creating jobs for the future with recognition that Saudi oil supply is not unlimited.
However, these efforts were limited by the historically conservative nature of the country and the continued presence that religious leadership continues to have in Saudi's political structure.
According to an article published by the Washington Post, Saudi Arabia's legal system, which is based on judges who interpret sharia law, is described as "one of the strictest interpretations of Islamic law in the modern age." Freedom House, an American nongovernmental organization that tracks human rights, rates the monarchy as "not free, and gives it the lowest possible score in its rankings."
According to a 2013 U.S. State Department report on human rights, Saudi Arabia purportedly denies its citizens equal rights for women, children and noncitizen workers. Women cannot legally drive; they are expected to keep their heads covered with scarves and wear loose clothing at all times, and they are supposed to have a man's permission for various activities such as working and traveling.
Najwa Kaawach, who grew up in Saudi Arabia and is now a freshman at UCLA, said that she has seen an improvement in women's professional opportunities within her lifetime. She mentioned that even stores like Victoria's Secret, which are employed mostly by women in the U.S., were run solely by men, and it wasn't until she was about 15 that she began to see women working in such stores.
History instructor Catherine Atwell believes that one of the challenges that Saudi political leaders will have to face in the future is "the fact that their legal system is very much out of step with most other countries, which will become harder and harder to defend as time goes on."
Atwell also believes that "if [Saudi Arabia] wants to be competitive economically, they're going to have to relax a lot of the restrictions on women."
Despite the conservative nature of Saudi's political regime, some Saudi citizens seem hopeful but not assured that significant changes in human rights will occur.
Suha Murad, M.D, an anesthesiologist who practices throughout Los Angeles, has family currently living in Saudi Arabia and frequently travels there for work. Murad spoke about women's lack of the right to drive.
"I don't think it will happen soon at all. I think there is a lot of unrest under the table," Murad said.
However, Murad was optimistic about the future of the throne.
"We all hope that changes will happen for the better. We are all hoping that life will improve overall with the younger generation," she added.
Kaawach believes that daily life in Saudi would not drastically change if women were given the right to drive, because women have gotten comfortable with having men drive them around. She explained that when she is in the car with her driver, teenage boys will often follow her car or drive up next to her and try and flirt with her.
"If my driver wasn't there to protect me, I never know what could happen. I fear that I would be actually harassed and things would get bad if he was not there, which would stop me from driving even if women were given the right to drive," Kaawach said.
POLITICAL PREDICAMENT
Along with human rights, one of the most pertinent topics in Saudi Arabia since Salman assumed the throne has been the country's political stability.
In a CNN article, Becky Anderson wrote that Salman is "viewed as a pragmatic and cautious reformer," while Foreign Correspondent Frank Gardner said in a BBC article that "King Salman is not believed to be as personally interested in political or social reform as his predecessor."
If Salman does not engage in reform to the extent that Abdullah did, questions will arise about his political objectives. His immediate changes to the structure of the government and his new appointments to leadership positions create a lack of clarity about the direction and future of such human rights efforts, as Salman "has moved with unprecedented speed to consolidate power in the hands of his closest family," according to an article published by The Telegraph. During his rule, Abdullah oversaw eleven committees which included the National Security Council, Civil Service Council and the Higher Committee for Education Policy, along with others. Within one week of ascending to the throne, Salman abolished every one of these committees.
In addition to eliminating government posts, Salman rapidly appointed a successor. Last year, before his death, Abdullah named Prince Muqrin bin Abdulaziz, who is known to have supported Abdullah's policies of reform, Crown Prince. Then, a week after Salman ascended to the throne, Salman named Mohammed bin Nayef, his nephew, as the new Deputy Crown Prince and head of the Council of Political and Security Affairs (CPSA). Salman's appointment of Mohammed raises concern among some experts that Salman has positioned a ruler who could potentially undermine any reforms promoted by Muqrin.
If Mohammed does in fact succeed Muqrin, he will be the first prince of a new generation to rule the monarchy. Salman also appointed his youngest son, Prince Mohammed bin Salman, to Minister of Defense, who heads the "Council of Economic and Development Affairs," even though Mohammed bin Salman has not previously held a significant governmental position. This consolidation of power within the royal family has made recent headlines, as it is more common for political power to be spread out among more family members.
With this new generation of rulers in the wings, the future of monarchy's stability is cloudy. A recent article published by Foreign Affairs states that "Salman's concentration of power in a very few family hands runs the longer-term risk of a backlash among the many members of the third generation who have seemingly been cut out of power by his recent decisions."
These concerns only intensify the challenges and questions that the Saudi government faces and will face in the future. Mohammed bin Salman and Mohammed bin Nayef, who are both very young in comparison to other Saudi political figures with such power, will undeniably have an influence on the future of Saudi's regulations on oil.
"Saudi Arabia's going to have to deal with the growing economic reality that its supply of oil, while still plentiful, will run out one day. They need to diversify their economy," Atwell said.
LOYAL TO OIL
Some critics argue that western countries have largely ignored the Saudi monarchy's treatment of women and other human rights abuses while maintaining close economic ties with Saudi Arabia. Recently, President Obama and a large U.S. delegation, which included members of both political parties, traveled to Riyadh following the death of Abdullah. This open display of support underscored the two countries' economic interdependency.
U.S. Energy Information Administration statistics reveal that Saudi Arabia holds 16% of the world's oil reserves and is the largest exporter of petroleum liquids. After Canada, the Saudis are the second-largest petroleum exporters to the United States. Not only is Saudi Arabia an important source of oil to the U.S., but its prolific oil-pumping often results in falling oil prices, which hurt U.S. oil producers. Given Saudi Arabia's position as such an important oil partner, the U.S. is eager to maintain good economic relations with the country.
One complication in calling for reform in Saudi Arabia is that Wahhabism, the Salafist Islamic movement that lends religious authority to the government, which, in turn, enforces Wahhabi religious law, may pose less of a threat to the U.S. than the violent jihadist movement which has taken root in other Middle Eastern countries.
There is widespread controversy regarding U.S. support for the Saudi monarchy due to the monarchy's alliance with extremists within its borders. In return for the religious legitimacy conferred by the Wahhabi clerics, the Saud family has allowed the sect to enforce strict laws that lead to human rights abuses, including the oppression of women, violent punishment for crimes against Islamic law and suppression of expression of dissent against the monarchy.
"On the one hand, the Obama administration condemns the beheadings, torture and crackdowns conducted by the armed group Islamic State," Sunjeev Bery, advocacy director at Amnesty International USA, told the Washington Post. "On the other hand, the White House is relatively quiet when Saudi Arabian authorities engage in some of the exact same human rights abuses."