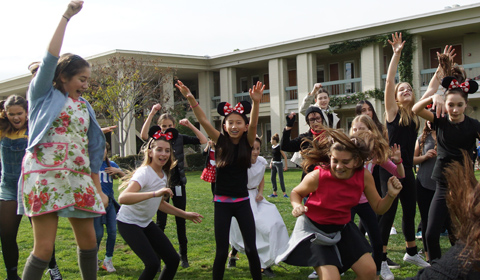 This year's Spirit Week will go down in Marlborough history as one of the most creative, pep-filled and motivational weeks that the school has seen in its 126 years of existence.
Students and teachers alike adore spirit week for its inventive fashion, the community bonding that occurs and the short break it gives everyone from the stresses of everyday academics.
This year's seniors were especially sentimental, as this year was their 6th and final spirit week.
"Because it was my last year, I felt more spirited, and I was more excited and willing to dress up. I loved spirit week!" said Susie Terasaki '15.
In case you missed anything, or would like a quick refresher, here is a recount of the week of January 26, 2015:
M Day Monday: "Mickey Mouse," "mothers" and the related "milf" were popular outfit choices. Some standouts from the senior class included "mollusk" (Maggie Weng '15), "murder victim" (Emma Bernstein '15) and "banana" (Sam Lane '15).
TV/Movie Tuesday: Quite possibly the most original, animated, and widely participated day of the week. Highlights included characters from Gilmore Girls, Breaking Bad, Friends, Dexter and Grey's Anatomy, as well as famous movie crews like the Pink Ladies and the T-Birds.
Wacky Wednesday: Major props to the middle schoolers for going all-out wacky! Tutus, leg warmers, neon and the like were sported throughout the bottom floor of the school, with side ponytails and patterned bows to top them off. The majority of the juniors and seniors opted for a more casual, leggings/sweatpants combination, due either to a lack of motivation or perhaps for a saving up of their spirited energy for later on in the week.
Throwback Thursday: With a Polaroid and cookie booth sponsored by All-School Arts council, a jumble of plaid-splattered 90s girls, and even a throwback to the good ol' days of the Puritans, Throwback Thursday was a huge hit. Many girls "tbt-ed" to the early 2000s, a fashion era known for unflattering layers and denim everything. Several teachers even joined in on the festivities, notably Mathematics Department Head Chris Talone dressing up as a UCLA cheerleader, a throwback to his days on the college cheer team.
Friday: The school divided itself into teams of pink ninjas, maroon 5, yellow sunshine, green army soldiers, blue royalty and a black nightclub theme. The lip sync was an overwhelming success, with intricate dances, themes and performances by each grade level. The winners of the dance contest were the 8th graders dressed as maroon 5, with the seniors coming in at a very close second. Highlights included several mid-air flips, a Gwen Stefani impersonation, and a ridiculously cute "Pink Panther" intro from the seventh grade.