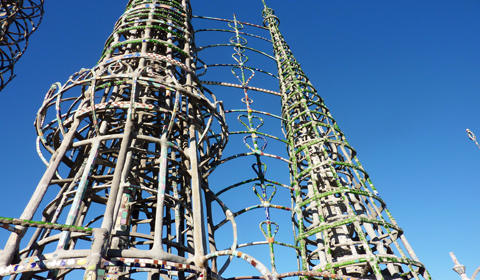 Even living in a metropolitan center, one could choose to never go to a gallery, see a play, watch a dance performance or listen to music. However, avoiding architecture in any city is simply impossible. Every day, we walk around school, drive by buildings and return to our homes at night. We live in a world defined by architecture, but we have become so accustomed to its presence that we often overlook its magnificence. So, I would like to use the several minutes it will take you to read this article to drop some architecture knowledge that may help you to better appreciate the art which surrounds you.
Here's a quick list of some of the most famous (and my favorite!) architectural sites in Los Angeles:
Watts Towers. These 17 interconnected towers, designed and built single-handedly by Italian immigrant Simon Rodia are located in South Central LA and are certainly hard to miss. The structures are made of concrete, seashells, and thousands of bits of broken bottles, dishes, and other miscellaneous items. One of my favorite facts is that neighborhood children would bring broken bottles or glass to Rodia for a small monetary reward, which led to some angry parents, as children began breaking plates or glasses on purpose to get the money from Rodia. Rodia famously said, "I build the tower people like, everybody come."
Los Angeles County Museum of Art. I'm sure we're all familiar with the rows of streetlights outside LACMA, but this romantic backdrop and the fantastic exhibits inside LACMA aren't the only art at this museum. The buildings themselves are a permanent installation, with the latest additions designed by Renzo Piano. The Italian-born architect says, "Architecture is a very dangerous job. If a writer makes a bad book, eh, people don't read it. But if you make bad architecture, you impose ugliness on a place for hundreds of years."
Griffith Observatory. Visible on most days from our very own campus, the Griffith Observatory is a distinctly Art Deco complex designed by John C. Austin. Art Deco is a form of architecture defined by its use of symmetry and geometric shapes; famous examples include the Empire State building, the Chrysler building and the Los Angeles Central Library.
The Hollyhock House. Designed by one of the most famous and distinct American architects (and my personal favorite), Frank Lloyd Wright, this Los Angeles home is another breathtaking example of the Art Deco style. Though his work is primarily centered in the Midwest, Wright ventured to California and designed the Hollyhock House for theater director and oil heiress Aline Barnsdall in 1921. In typical Wright fashion, the house reflects its natural surroundings, in this case the Hollyhock flower whose shape clearly influences many of the exterior and interior designs. For an even more stunning example of this synthesis with nature, look up Fallingwater, another of Wright's masterpieces.
I will end with a quote by Frank Lloyd Wright that applies to everything I've said above; it also applies to life in general, when it is easy to forget to appreciate all that is around us. As Wright says, "The longer I live, the more beautiful life becomes. If you foolishly ignore beauty, you will soon find yourself without it. Your life will be impoverished. But if you invest in beauty, it will remain with you all the days of your life."