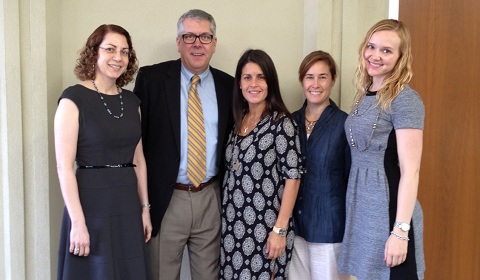 This year Marlborough Administration decided to implement the Global Initiative Task Force in an effort to strengthen Marlborough's efforts in "engaging locally and leading globally," which were ideas put forth in the Strategic Plan during the 2013-2014 school year. The Task Force, is led by Middle School Director Robert Bryan, with History & Social Sciences Instructor Cathy Atwell, Dean of Student Life and Foreign Languages Instructor Regina Rosi, Science Instructor Lisa Ellis, and Coordinator of Community Outreach Miranda Payne '84 each leading different sections of this initiative. While at the moment there are no students serving on this task force, the majority of the student body is attached to these efforts in its various courses and extracurricular activities.
"This task force is a way for each piece to inform the other pieces about various endeavors. By doing this, we hope to improve the profile and visibility of these programs," Bryan said.
Atwell will lead the Global Curriculum and Global Scholar Program sector in an effort to look into how Marlborough can best incorporate global features into the curriculum as a whole. To do this, Atwell will be working in conjunction with department heads to encourage the promotion of these global initiatives in all academic fields. In years past, students have focused on global issues in the History Department, specifically in the Global Connections courses in the Middle School, but the Task Force hopes to help spread global awareness across all fields of study.
Additionally, Rosi will be leading the Student Programs component of the division. As Dean of Student Life, Rosi will continue to oversee clubs and activities, as well as field trips, and international experiences and exchanges.
Both Rosi and Ellis will be working with the Environmental Initiatives component of the task force including a collaboration with the Campus Environmental Committee in an effort to help promote environmental actions as well as awareness. Furthermore, they will be incorporating more environmental topics into the curriculum, in conjunction with Atwell and the Global Curriculum and Scholar Program subdivision.
The Global Curriculum and Global Scholar Programs, Student Programs, and Environmental Initiatives all feature community-outreach components as well; Payne will be spearheading the Community Outreach sector of the initiative. By working with these three other divisions, Payne will be able to incorporate more community service activities into these other sectors.
"The goal is to promote global programming in these various areas within the school with the teachers and students in the curriculum so it (Student Programs, Community Outreach, Environmental Initiatives, and the Global Curriculum and Global Scholar Program)  is something that touches every student, instead of just a few students. By pulling it all under one umbrella, we hope to have a better sense of the whole picture and all Marlborough is doing, as well as create cohesion and a shared sense of purpose and momentum across all divisions," Bryan said.