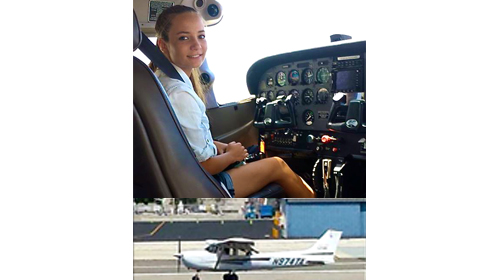 Last year Kara '15 tore her rotator cuff while playing third base and was no longer able to play softball. But instead of letting that get her down, she decided to follow a passion for something she had always loved, flying. She began taking flight lessons at Santa Monica Airport from an instructor she found through a friend of her mom's. Once she spent four weeks flying every day after school with her instructor, she was able to fly alone. After almost 40 hours of flying, she is about to receive her pilot's license.
Kara loves the drive to and from Santa Monica because even though it's a long one, she knows that it is taking her to do what she loves. To her, flying feels natural, as if she were always meant to do it.
"For me, flying is not like an amazing thing; I know a lot of other people think, 'Oh, that's so great,' but for me, it just feels right to be in the plane and controlling the plane," Kara said when asked what it felt like to fly.
When she was younger, whenever Kara had to write a report for school, she always wrote on something to do with flying, whether it be about pilots or the planes themselves. So when she was no longer able to play softball, it felt right to follow the passion she'd had her whole life. And now, thanks to a lot of hard work and passion, Kara will soon be the proud new recipient of a pilot's license.