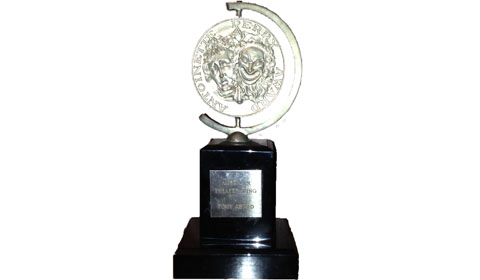 It's that time of year again when everyone awaits sunshine and spotlights, the sand and the stage and tanning and the Tonys. The beginning of summer break will usher in every Broadway lover's favorite season, as the 68th annual Tony Awards takes the stage on Jun. 8. The casts of this year's nominated shows are comprised of recognizable Hollywood actors and actresses. Though some television and movie stars have always migrated to New York City to bask in the lights of the Great White Way, this year's list of nominees shows many more Hollywood names than usual.
The host of this year's Tony Awards will be Hugh Jackman, a prime example of the Hollywood-to-Broadway trend. Although Jackman has been active in musical theater throughout his acting career, he is known to the general public primarily for his roles in blockbuster movies like X-Men.
Many theater enthusiasts may be disappointed that the beloved Neil Patrick Harris, another television cross-over most well known for his role as Barney Stinson in How I Met Your Mother, is not returning as host for a fourth consecutive year. Instead, Harris will be attending as a nominee for his starring role as Hedwig in the Broadway revival of the musical Hedwig and the Angry Inch.
Harris and Jackman aren't the only notable Hollywood stars featured in this year's Tony lineup. Bryan Cranston, fresh from the hit series Breaking Bad, is nominated for his portrayal of Lyndon B. Johnson in the new drama All the Way. Chris O'Dowd, known for his roles in Gulliver's Travels and Bridesmaids, is nominated for his dramatic turn as Lenny in the revival Of Mice and Men.
Though not every movie star received a Tony nomination, many are featured in nominated shows. Daniel Radcliffe, most well known for his film role as Harry Potter, is starring in the debut of Martin McDonagh's The Cripple of Inishmaan.
Debra Messing, Grace from television's Will and Grace, is starring in the world-premiere of Outside Mullingar. Zachary Quinto, from American Horror Story and the Star Trek movies, stars in Tennessee Williams's The Glass Menagerie.
Making her Broadway debut alongside Tony Award winner Alan Cummings, Michelle Williams, from Dawson's Creek and My Week with Marilyn, starred as Sally Bowles in the revival of Cabaret.
Lastly, Denzel Washington currently stars in A Raisin in the Sun. Many other stars, including James Franco, also recently starred in Broadway shows but weren't nominated for Tonys.
This increasing overlap of film and stage actors has benefited Broadway theater in many ways. Theaters are boosting sales and attracting new audiences, as people, enticed by the promise of seeing their favorite television and movie stars, flock to buy tickets.
Often, however, the Hollywood stars used to increase theater ticket sales are inexperienced (or certainly less experienced than many traditional stage actors). Therefore, these film and television implants not only monopolize the entertainment industry but also detract from the art of theater and reduce the quality of many Broadway shows.
While the marketing ploy of casting movie stars in stage productions has clear benefits for the Broadway producers and the new audiences, as it has increased the popularity and profile of Broadway shows, it is detrimental for the actors and the shows themselves. The U.S. has yet to reach a point when actors participate in both film and theater, making them more qualified for their roles in each medium and thus increasing the quality of theater and film.
In London, the center of European theater and film, not only do famous film and television actors star in hit plays and musicals, but famous stage actors also often make their way onto the big screen. This way, the actors have more wholesome careers; the audiences have better quality entertainment, and the general population is encouraged to discover different art forms.
So, look out for this year's Tony Awards, but try not to confuse it for the Oscars.