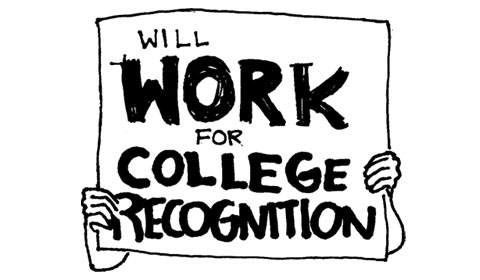 Many college students have recently found themselves without jobs and instead working as interns in the career areas they wish to pursue after graduation. Since 2011, college students have filed lawsuits against companies who over-worked them as unpaid interns, and many interns have sued for back pay, the difference between what the employee deserved to be paid and the actual amount paid.
According to the New York Times, many millennials apply to be interns because they wish to obtain knowledge in a desired field; however, as many college students have found, the companies that hire them as interns may not end up hiring them for full-time work. Andrew Lang, a 29 year-old graduate of the University of Pennsylvania, took an internship at a film company in Beverly Hills in the hopes of gaining exposure to the movie industry. After pursuing other job interests, Lang found that all of the companies he had interned for couldn't afford to hire him full-time.
"No one hires interns. I feel like I am a part of a revolving class of people who can't break free of the intern cycle," Lang said to the New York Times.
Tenneh Ogbemudia, 23, has also noticed how much easier it is to obtain a position as an unpaid intern, rather than as a full-time worker on the payroll.
"In any given month, I'd say I apply to at least 300 full-time jobs," she said to the New York Times. "On the other hand, I can apply to one or two internship positions a month and get a call back from both," Ogbemudia added.
Despite the setbacks faced by college students and recent graduates, many Marlborough girls, including Uriel '15, who interned at Warner Bros. WaterTower Music last summer, said that they would take an internship over a job if it were in an area they wished to study.
"Internships are more specifically for experience and a learning environment, so I would definitely apply for internships instead of jobs," Urial said.
Although Urial, like many other students, classify an internship as an opportunity to learn and discover, rather than to do work as a full-time employee, many college students filed lawsuits based on the grounds that they were overworked as interns and didn't learn anything new. Intern magazine was born out of complaints from people like Alec Dudson, 29, an intern laboring at London publishing companies.
"I was working 30 hours a week at odd jobs, on top of 40 hours a week at internships, and I knew there wasn't a job at the end of it," Dudson said to the New York Times.
Ella '15 said that a lot of factors contribute to both high school students', college students', and recent graduates' inclination to take an internship over a job, or vice versa.
"At the moment, I would rather have an internship in a field that I'm interested in, because I'm obviously in high school, and I'm lucky enough to have a financially stable family without contributing a salary," Ella said. "But if there was a time when I felt financially unstable, I guess that I would feel pressured to take a job, even if it wasn't as interesting."