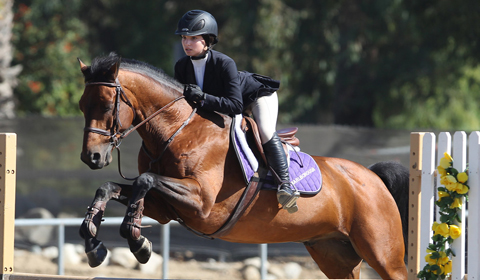 On Sunday, Apr. 13, Marlborough's equestrian team competed in the Los Angeles Interscholastic Equestrian League (IEL) show at the Hansen Dam Equestrian Center. Competing against riders from over 90 different schools, this year Marlborough claimed the title of Champion Overall High Point Team. The equestrian team as a whole, from novice to varsity levels in all four disciplines—Hunter, Equitation, Jumper, and Dressage—scored more combined points than any other school's equestrian team throughout the whole year. This is the fifth time in seven years that Marlborough's equestrian team has won a league championship.
Individual riders from the novice to varsity levels placed as either Champion or Reserve Champion in the Hunter, Equitation, Jumper, and Dressage disciplines, contributing points toward the equestrian team's overall score. Alexandra '18 placed as the Reserve Champion in the Novice Dressage division, Josephine '17 was the Co-Champion in Junior Varsity Hunter, Cece '15 won Champion in Varsity Hunter, and Nina '16 was the Champion in Varsity Equitation and Varsity Reserve Overall High Point Rider Eliza '15 also won the Varsity Medal Final.
Marlborough's riders also scored enough points to win the Freshman and Junior Varsity Reserve Overall High Point Team and Varsity Champion Overall High Point Team.
As a tradition, an awards banquet was held at the end of the last IEL show of the season. Some Marlborough riders, including Josephine, celebrated the end of their season by wearing various accessories in the School's purple color during the banquet.
"We have tacky purple sunglasses and leis, and we just go all out and it's really fun," Josephine said.
Josephine said that she enjoyed the fellowship of the team, pointing out that it includes student riders from 7th through 12th grades.
"Everyone on the team gets along, which is really good, even though we're in different grades," Josephine explained.
According to science instructor and Head Advisor of the equestrian team Elizabeth Ashforth, Marlborough's tent attracts more than just hungry Mustangs.
"Our tent is the cool place to hang. We have lots of riders from other schools that come and hang," Ashforth said.
In the coming weeks, the team will say fond farewells to their senior riders, Kailey '14 and Kathryn '14, but they look forward to welcoming two new seventh graders, who, according to Ashforth, are very competitive. As a result, Ashforth said that she has high expectations for next year's competitions.