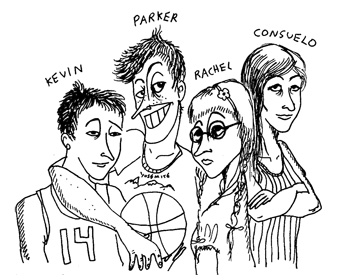 On Apr. 23, hundreds of 11th grade students from private schools all over Los Angeles shuffled into classrooms at Brentwood School for Case Study Night. In their arms they held papers filled with information about four fictional high school students applying to the similarly fictional Jefferson University. All students at Case Study Night were split into groups to review the fake applications with an admissions representative from a real university. Each group decided which of the four fictional applicants to accept, waitlist, and reject. Though the goal of acquainting students with the idiosyncrasies of the college process is admirable, we at the UltraViolet feel that Case Study Night has become redundant and only spurs unneeded competition among students.
By junior year, most high school students are or should be aware that colleges look beyond grades and test scores when considering applicants. The whole point of Case Study Night is to reassert this fact. One of the fictitious applicants, Parker Edwards, has stellar grades and test scores but, according to his teacher recommendations, a condescending personality; thus, many of the case study groups did not opt to accept him. However, if Marlborough, or, for that matter, any other rigorous private school, truly wishes to drive home the point that grades and test scores aren't everything, the School should strive to constantly remind students that their individuality means more than just their academic performance. They should emphasize the merits of arts, athletics, and other passions.
Furthermore, since representatives from selective institutions like Columbia University, the University of Chicago, and Duke University are present at Case Study Night, the event becomes less of a time for reflection and more of an opportunity to kiss up. Students jostle each other for access to the college booths, grabbing handfuls of pamphlets and smiling a little too widely. The real purpose of the event is lost among the desire to impress the university representatives.
Case Study Night is one of the many factors that make the college admissions process a far too prominent aspect of a Marlborough student's life. College counseling, guidance, and essay workshops are all vital parts of the process, but we could do without this particular event. It only serves to remind us of the myriad factors outside our control when it comes to admittance and that we have to gloss and prettify our applications in order to sell ourselves to these institutions. At the end of junior year, in the midst of academic and social upheaval, we do not want or need this extraneous stress.