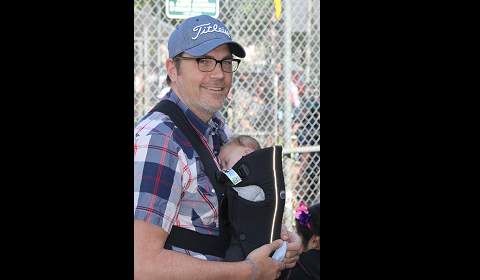 Late at night on Feb. 22, history instructor Michael Rindge and wife Meagan Goold became  parents when their adopted baby boy, Jude Gabriel Rindge, was born. Rindge and Goold decided three years ago to begin searching for an opportunity to complete an open adoption, through which the biological and adoptive family share personal information and maintain contact. But it wasn't until a little less than a year ago that they got the call from Gabriella, Jude's birth mother. She had chosen them—out of 400 other profiles—to be the adoptive parents.

"It's kind of surreal, because you're speaking on the phone with someone who is trying to figure out if they want you to have their child," Rindge said.

After the birth, Rindge said that medical complications created some anxiety. Jude had to spend his first ten days at the Neonatal Intensive Care Unit in Long Beach. Fortunately, operations solved the complications, and now Jude is happily living with Rindge and Goold at their home.

Rindge and Goold talked a lot among themselves about what to name their son before ultimately deciding upon Jude Gabriel, a name that honors a few important people in their lives. Goold's mother's name is Judy, and Rindge said that he has always liked Hebrew names. Jude's middle name Gabriel shows appreciation for the birth mother, Gabriella.

Rindge and Goold's dog, Beezus, who was one of the reasons Gabriella chose the couple as the adoptive parents, initially had some trouble getting used to sharing the love with the new addition to the household. But Rindge said that they get along much better now, with Jude often laughing when Beezus licks his feet or when Rindge sings a rendition of "Hey Jude."

"[This experience] has been kind of crazy, but wonderful," Rindge said.