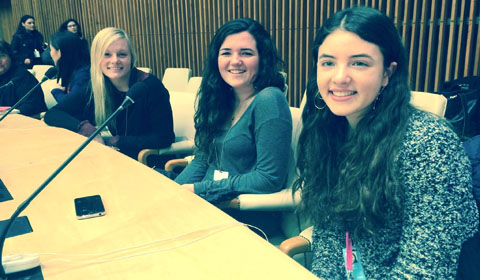 From Mar. 8 through Mar. 14, Sloane '14, Ali '14 and Isabel '14, accompanied by history instructor Catherine Atwell, participated in the 58th Commission on the Status of Women (CSW) at the United Nations thanks to their work with Girls Go Global, Marlborough's human-rights club. They served as three of the 48 delegates representing different chapters of Girls Learn International, a partner organization of Girls Go Global that operates across the nation.

Along with participating through Girls Go Global, the three seniors participated in the CSW through another association, the Feminist Majority Organization. According to Ali, this organization taught her the definition of a feminist and encouraged her to advocate for women's rights.
At the conference, all three delegates had the chance to listen to government officials and meet individuals who had experienced human-rights violations firsthand. In addition, the girls met other advocates, just like them, who are fighting to initiate change.
Representatives of the umbrella group Girls Learn International went to different panels on topics ranging from sexual violence, to child marriage, to education. All three seniors said that one of the most interesting panels they saw focused on prostitution.
"It was fascinating because one of the women, who had been a prostitute, said that 85-95% of women would get out of prostitution if they had the resources," Sloane said. "And this really changed my view on [prostitution], because I had previously thought [prostitution] was [the woman's] choice."
Along with attending these panels, Sloane guided a discussion with women from all over the world about girls' roles in leading the UN's Millenium Development Goals. Ali operated the group's Twitter feed and sent out daily updates, and Isabel gave a speech to other delegates and a few State Department officials on human trafficking in the United States, child marriage abroad and female empowerment.
Isabel, who participates in Model United Nations, said that it was fascinating for her to see how the United Nations truly works.
"I came back more aware of issues and excited about the potential for change," Isabel said.