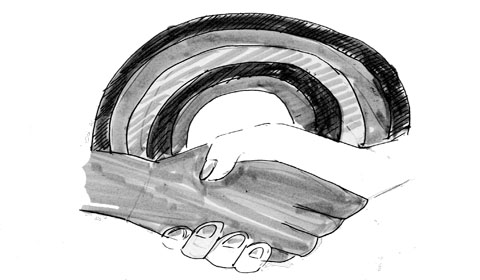 Following the public coming outs of actresses Raven Symoné and Ellen Page in recent months, some students have argued that people of color who identify as lesbian, gay, bisexual, transgender or queer (LGBTQ) face more criticism than whites who identify as LGBTQ. They point to the public's critical response to the revelation of Symoné's sexuality in contrast with the support for Page's declaration.
On Aug. 2, 2013, Symoné tweeted, "I can finally get married! Yay government! So proud of you." The online post marked the former Disney Channel star's first public statement suggesting that she is lesbian after years of media speculation. In response to the tweet, which was interpreted as Symoné's public coming out, many used the online platform to criticize her. For example,              @carltongriffith wrote, "Raven Symone came out of the closet? #ChildHoodRuined."
On the other hand, after Page publicly came out as lesbian at a Human Rights Campaign event in Las Vegas on Valentine's Day, celebrities flooded the Twitterverse with congratulatory messages.
Many in the Marlborough community said they believe that the manner of and reactions to Symoné's coming out differed from Page's announcement because Symoné is African-American whereas Page is white.
Some students speculated that race motivated Symoné's decision to come out online, in a more reserved manner. They suggested that, in coming out, people of color receive more ridicule than whites because LGBTQ people of color elicit both homophobia and racism.
"I think [Symoné] had to be more careful with if she came out in the first place and how she did it …If you're queer and black, it's kind of like you're in two minorities, and so you're perceived completely differently than somebody who is queer and white," Nyala '14 said.
Nyala pointed to the discrepancy between the numbers of openly gay white celebrities and openly gay black celebrities as an indication that blacks fear that their careers will suffer if they identify as LGBTQ. She said that openly gay whites in the spotlight still outnumber openly gay African-American celebrities, even though comedian Wanda Sykes, CNN anchor Don Lemon, NBA veteran Jason Collins and NFL prospect Michael Sam have publicly come out as LGBTQ in recent years.
Despite the lack of black celebrities who are publicly out of the closet, a 2012 Gallup poll found that a greater percentage of blacks than whites identify as lesbian, gay, bisexual or transgender. According to the responses of 120,000 Americans, 4.6% of African Americans, 4.3% of Asian Americans and 4.0% of Hispanic Americans identify as LGBT, while 3.2% of non-Hispanic white Americans identify as LGBT.
Regardless of the LGBTQ community's diversity, many students agreed that, in general, the responses to coming outs deviate along race lines.
"My cousin is actually gay, and he went to school—and he's also African-American—and he was teased a lot and put down. And there were also other Caucasian children who came out, and they were also males, and they were not put down at all," Juliet '18 said.
Some girls blamed stereotypes about African-American men for the negative reactions to men's decisions to come out of the closet.
"The whole African-American stereotype is that we're…strong and scary and frightening so then the whole gay aspect of it doesn't really fit," Dominique '18 explained. "You're not as manly; you're more feminine."
Nyala said she believes that the notion of black masculinity also disadvantages black LGBTQ women, who must confront the stereotype that they are manly.
"For being a black woman, [Symoné] is going to be seen as more masculine, and then since she's also queer, now she's going to be seen as more masculine," Nyala said.
Other girls suggest that homophobia can stem from a minority population itself. Victoria '15 said she has observed a reluctance to accept LGBTQ individuals in the Asian community.
"You're in a country where you are a minority already, and there's lots of stigmas against you and so a lot of traditional older people of different races are a little more careful about how they represent themselves to the wider majority, which is whites. So I think a lot of [Asian] parents also discourage [homosexuality]," she said.
Regardless of the stars' motivations for coming out and the public's reactions, most students who were interviewed said they commend both Symoné and Page for their courage.
"I think it's great if anyone can accept their identity. I don't think it matters how you're doing that. If you're coming, if you're tweeting about something, it doesn't really matter. I think it's just great if you can be honest about that," Lucia '16 said.