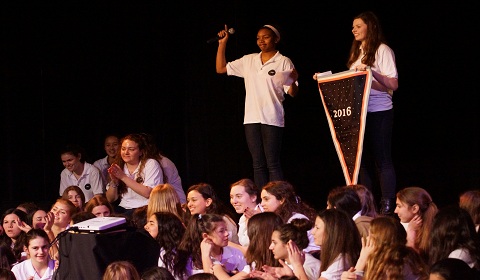 On Tuesday, Feb. 18, the Class of 2017 presented its class colors during an All School Meeting, and, just two weeks later on Tuesday, Mar. 4, the Class of 2016 presented its newly designed banner to the School.
The ninth graders announced their three chosen colors: lilac, soaring sky and magic night. Soon after the showing of the freshmen's video presentation, buzz about its humor and featuring of "Saturday Night Live" star Will Ferrell ran throughout the school. Ferrell made the cameo in the video because of a connection to Gracie '17, whose dad manages the celebrity.
Alexa '17 said that she enjoyed spending time working on the video, even though it took a lot of effort. She wants to help the film committee again for banner presentation.
"I really liked filming the teachers because their acting was so entertaining," Alexa said.
Following the ASM, ninth graders took a bus for the annual half-day trip to City Walk, where they enjoyed food from Hard Rock Café and rushed to the always popular IT'SUGAR shop.
Meanwhile, the sophomores worked diligently on their video and banner up until the Monday before the school-wide unveiling. Class Vice President Ellie '16 said that the class was very pleased with its design of the banner—a navy-blue triangle lined with a border in the class colors of sky blue, cream and coral. The banner features 81 white stars on the navy night-sky-themed background, representing a group of individuals united as one within the larger Marlborough community. Ellie mentioned that unlike the class song and colors, which members of the class have had to develop likings for over time, everyone seemed to appreciate the banner from the get-go.
"This choice [of banner] symbolized our class, but it was also a good design, one that is not too cheesy," she added.