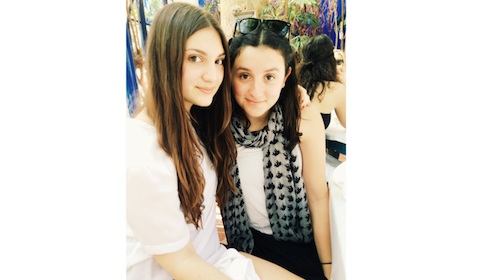 A few weeks ago, Marlborough Radio took to the Web, marking the culmination of months of work by Sasha '15 and Emma '15. Streaming from 4 to 7 p.m. over www.kmbsradio.blogspot.com every Tuesday and Thursday, the radio station KMBS features Marlborough students as DJs.
There are currently nine Marlborough students DJing, with the number continuing to climb as Sasha and Emma encourage more girls to apply. Each DJ creates a one-hour-long playlist that is uploaded to KMBS during the allotted time, resulting in three different DJs and playlists per live stream. Students in all grades can become DJs by contacting either Sasha or Emma.
Emma initially came up with the idea to start this program after learning about the Harvard-Westlake radio station, KHWS. Both she and Sasha have friends who work for KHWS. After hearing about their friends' positive experience, they decided to bring the idea to Marlborough. Currently, Emma's father is paying for the station's license to be able to stream over the Internet, but Emma and Sasha plan on holding a fundraiser in the near future so that they can take on the expenses themselves.
Because KMBS is still in the early stages of its public streaming, Emma and Sasha have run into some technical challenges regarding computers with OSX.6 operating systems, but they remain optimistic about the future of Marlborough Radio and its effect on the community as a whole.
"I just think that once it's really off the ground and going strong, it will be a really great way for our community to have something every Tuesday and Thursday after school that they can listen to [and] relax. Hopefully it will help the students form bonds and camaraderie over music," Sasha said.