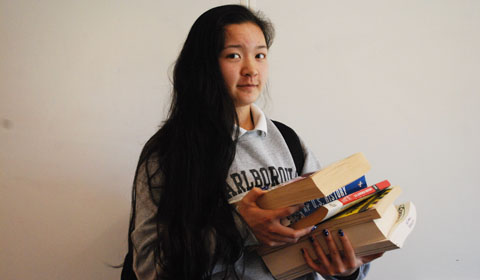 On Jan. 12, Business Insider published an article that rated Marlborough sixth out of the top 25 high schools across the country based on standardized test scores. The results were calculated using an algorithm that averages SAT and ACT scores among the school's top students only. Co-Director of College Counseling Michael Heeter cited Marlborough's college-counseling program as a factor in the good scores.
"[Marlborough] girls are smart, but test prep helps boost the scores that much more," he said.
Marlborough was one of eight schools from California included in the rankings, and it was the only school listed from Southern California. Thomas Jefferson High of Virginia ranked first. Other schools of note that made the list include Washington D.C.'s Sidwell Friends School, which both of President Barack Obama's daughters attend, in sixteenth, as well as New Hampshire's Phillips Exeter Academy, the famously rigorous boarding school, in thirteenth.
Sarah '16 said she was heartened but unsurprised by the results.
"[The study] shows that Marlborough really is a college preparatory school and not just a normal high school," she said.
According to some researchers, Marlborough girls' excellent performance on standardized tests reflects well on the intellect of the school's students. A recent study from Case Western Reserve University shows that SAT and ACT scores represent good measures of students' intelligence, or "cognitive ability," disputing recent theories by students and professionals alike that standardized tests fail to accurately assess a student's brain power.
Heeter, however, questioned the validity of the Business Insider survey, pointing out that only 909 schools had been asked to participate. Plus, only schools from which a minimum of 100 students or alumni responded were counted in the final tabulations. Additionally, the scores provided by participants were not substantiated either by the school or the College Board, the entity that owns the SAT.
"We came out sixth, really not out of 909 schools, but however many actually qualified after the 100 girls, and so that rank of sixth cannot be at all accurate," Heeter concluded.