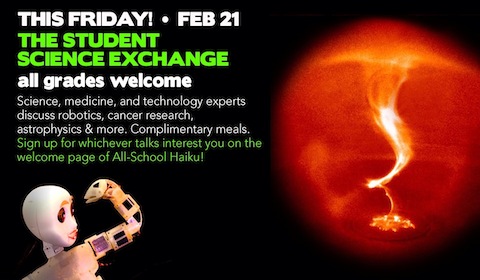 The annual Marlborough Student Science Exchange, organized by five students participating for their second year in the Leonetti/O'Connell Honors Research in Science, will take place on Friday, Feb. 21. The Science Exchange will run from 8 a.m. to 2:15 p.m. with both breakfast and lunch provided. Students are invited to attend as many or as few talks throughout the day as they would like.
The free event features five experts in fields ranging across the three primary regions of science—Physics, Biology, and Chemistry—who will give one or two 40 minute talks to any interested Marlborough students in seventh through twelfth grades. Speakers include Dr. Charles Gomer, a cancer researcher at Children's Hospital Los Angeles; Auna Moser, an astrophysicist at Los Alamos National Laboratory and the sister of mathematics instructor Alison Moser; Jillian Greczek, a robotics specialist who uses robots to assist socially impaired individuals; Choi Debliek, a Transcranial Magnetic Stimulation (TMS) fellow at UCLA, where she uses electric currents to stimulate the brains of individuals suffering from movement and developmental disorders; and Jamie Golden, an expert on necrotizing enterocolitis, an intestinal disease contracted by some premature infants.
Allie '14, one of the event coordinators, said she fondly recalled the first Student Science Exchange she ever attended. She credits this original positive experience at the Exchange as her motivation to do the Honors Research in Science program as both a junior and a senior.
"I think that Student Science Exchange is a really great opportunity to learn about STEM. Seeing these mentors come in encourages and empowers girls to pursue their own research," she said.
To sign up for the Student Science Exchange click here.
Make sure as well to attend the Marlborough Student Humanities Exchange on Friday, Feb. 28.