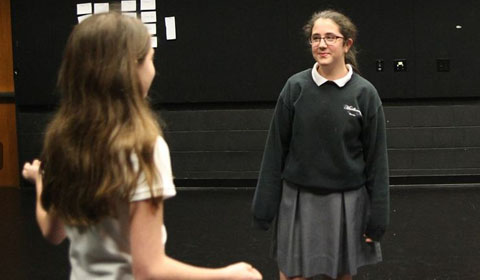 On Wednesday, Jan. 22, the Studio group from the After Hours Arts program, which offers art classes to middle-school students once a week, performed improvisation exercises and games in front of peers and teachers in the Intimate Theater during lunch.
The After Hours Arts program gives middle-school students an opportunity during the first semester to try out a variety of different performing arts that are offered at Marlborough, without the big time commitment required by the All-School Play in the fall or the Middle-School Play in the spring. Apart from Studio, the program offers a choir group called Sing and a dance group called Spins—both of whose members practice group performances and perform them at a concert during the first semester—and a stage-building and tech-skills group called Hammer-time that helps with the backstage production and tech of these performances. Studio focuses on improv comedy and gives students a nice introduction to performing at Marlborough, according to English instructor Brett Quimby, who has led the Studio class for the past three years.
During the first semester, students in Studio practiced their improvisational skills through different games and exercises. One skill that students practiced is the concept of "Yes, and," which requires the performer to listen to her partner's story and then build off of it.
During their recent live show, the girls had their talents put to the test.
"Initially they are nervous, but having an audience really helps because it is the first time that they have people there laughing at the performances, which doesn't really happen during rehearsal since there are only seven of us," Quimby said.
During the performance, the Studio group performed numerous games such as "Who am I," during which Quimby came up with a different persona for two of the performers. Each of the performers would know the persona of the other, but not her own. The audience chose a location, and then the two girls performed a scene as if they were interacting with the other's persona in order to try to guess their own identities.
The lunch-time performance marked the culmination of the Studio program, but Quimby said that he would like to continue to see his students on stage this year during the Middle-School Play.