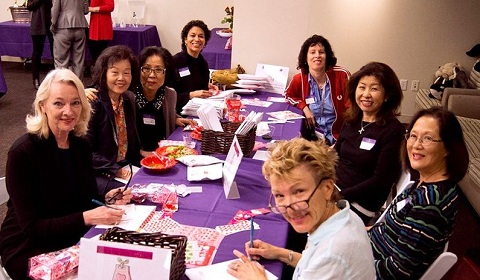 Regardless of whether they spend this Valentine's Day with or without a date, alumnae from the past four graduating classes will not have to worry about feeling alone. On Feb. 5, over 360 thick, white envelopes bedecked in sparkling pink and red heart-shaped stickers were shipped to hundreds of dorm rooms and apartments of former Marlborough girls across the globe. Twice a year, in honor of Halloween and Valentine's Day, Marlborough alumnae in college receive care packages from the School that are put together by their mothers. This year, the packages contain assorted candies ranging from lollipops to Hershey's Kisses, a credit-card holder that attaches to the back of a phone and a personalized note from the alumna's parent or guardian.
A tradition going back nearly seven years, the sending of these packages distinguishes Marlborough from most other high schools by virtue of its continuing effort to foster relations with its students after graduation.
"[Recent Marlborough alumnae are] like, 'Oh my god, my roommates couldn't believe that our high school sent us packages,'" Associate Director of Alumnae Relations Lauren Fritzinger said when describing the recipients' responses.
Besides just brightening the lives of the School's recent alumnae, these packages enable Marlborough to pursue its objective of global connectedness. This year alumnae not only across the U.S., but also in Scotland, England, Italy, Canada, Australia and Ireland received these gifts, enabling Marlborough to build a more global community that transcends the walls of the physical campus.