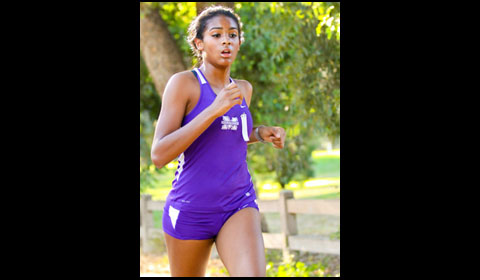 Bianca '16 recently came in second place out of 200 people in the CIF Finals for the Southern Section Division Four three-mile race.
Bianca started running at the age of 12. In order to stay in peak physical shape, Bianca runs at least two hours a day, six days a week. Presently, she is only able to run for Marlborough. She used to run on a club team as well but had to leave in order to be in compliance with CIF rules, which state that a runner cannot run for both a club team and a high-school team during the same season.
For Bianca, known as "Balonz" to her teammates, the best thing about running is the relief she feels from the stress of her day. There isn't anything she dislikes about the actual running.
"The excessive practices can get annoying, but I know they are important in order to do well," Bianca said.
Bianca serves as an inspiration to her teammates. Teammate Mary '16 said that Bianca never shows up to practices or meets without a smile on her face.
"The great thing about Bianca is that although she may lap you four times in an eight-lap race, she's always humble and encouraging while waiting for the rest of the heat to finish," Mary said.
Bianca hopes to run in college, Stanford being her dream school, but is not certain she wants to run professionally.