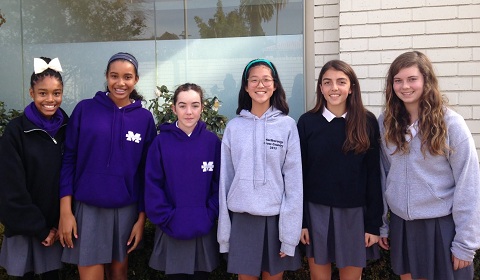 Marlborough's seventh-grade class decided on their second-semester student council during November elections. Randall '19 was elected Class President, followed by Vice President Brianna '19. Selected to the positions of Secretary-Treasurer, Arts Representative, Athletics Representative and Community Outreach Representative were Jordan '19, Annette '19, Grace '19 and Sophia '19, respectively. These recently chosen council members said that they are all excited to be the first representatives for the Class of 2019.
Initially, running for council and giving a speech in front of the entire grade sparked some feelings of discomfort for the candidates.
"It was a little scary just because everyone is still new," Brianna admitted.
Some council members saw the opportunity to serve on council as a chance for them to unify the grade.
"I just wanted to be able to communicate with everyone in the grade, and I felt like it was a way to know everyone. I wanted to have people feel comfortable coming up to me," Randall explained.
Each representative plans to spend the semester to come implementing unique and bright ideas. Randall, for example, plans to collaborate with the most popular restaurants among Marlborough students in Larchmont Village in order to create a purchasing system in which Marlborough girls can use their student IDs. Brianna plans to use the fresh vegetables from Marlborough's communal garden in Café M so that students can experience growing their own food. Stay tuned this semester in order to learn about the accomplishments of these new leaders!