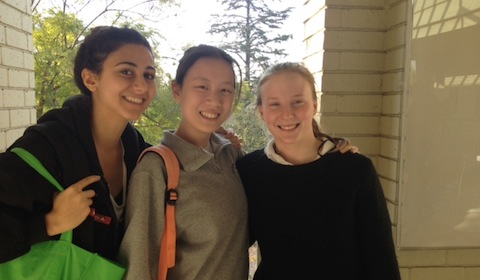 Hugs for Love is a non-profit organization founded by Marlborough student Paige '15 that gives personalized teddy bears to patients under the age of 21 with cancer and blood-borne illnesses. Paige's own experience in the hospital when she was younger inspired her to create the club.

"When I was two and a half years old, I was diagnosed with Wilms tumor in my left kidney, and I had to get my kidney removed. For the next 10 years or so, I had to go back to Cedars-Sinai's [Samuel Oschin Comprehensive Cancer Institute] to get my blood drawn because I was at risk for getting cancer again. It was a really big influence," Paige said. Paige is now cancer-free.

She first thought of the idea to give back during the second semester of last school year. At the beginning of her junior year, she spent three to four months on completing the legal paperwork that enabled Hugs for Love to become a non-profit organization. With this status, the club is protected from personal liability and is able to fundraise outside of school.

The club meets during lunch on Tuesdays in order to plan future fundraising events and decorate miniature teddy bear t-shirts designed by the patients. In addition to creating a replica of the patient's design, the club also uses the patients' interests, such as favorite colors and toys, to create one-of-a-kind t-shirts for the children. For example, Cleo '16 and Natalie '16 transfered a patient's design of a smiling yellow sun with colorful rays onto a small teddy bear t-shirt. Cleo also designed a shirt with a Batman symbol for a patient who loves the crime-fighting hero.

On Tuesday, Dec. 17, Hugs for Love gave out approximately 75 bears adorned with custom t-shirts during a holiday party at Cedars-Sinai Medical Center.

"I think our biggest achievement so far has been delivering the bears to the families. The families are very happy," Paige said.

The club looks forward to expanding its organization to help patients at other hospitals.

To support the club, check out and like Hugs for Love on its Facebook page!