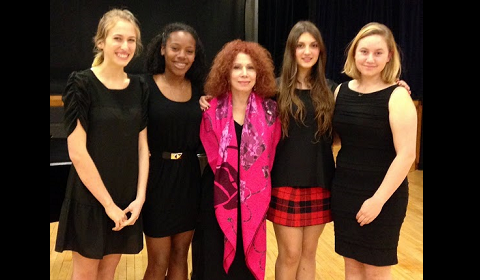 Each year, Marlborough invites an esteemed, professional opera singer to teach technique and stage-performance skills to students in for the Vocalist-in-Residence program. This year's Vocalist-in-Residence program members are Ari '14, Sasha '15, Peyton '15 and Christine '16, who each worked with renowned artist, Julia Migenes. Students must first audition by performing two musical pieces of their choosing. Mr. Scarborough and the Vocalist-in-Residence then collaboratively choose three to four students for admission. The professional vocalist gives the admitted students guidance, including advice about technique, performance and acting skills using the original pieces with which they auditioned.
Migenes is a New York born mezzo-soprano singer who focuses on musical theatre. Migenes attended the New York School for Performing Arts and then began her Broadway career as a member of the original cast of "Fiddler on the Roof" in 1964. In pursuing her theatre career, she knew her future pathway was too long, leading her to a cover contract at the New York Metropolitan Opera, where she gained public acclaim. Her later role in 1984 in an Italian film directed by Francesco Rosi, Carmen, earned her worldwide recognition, enabling her to perform in the greatest theatres around the world. A Grammy for "album/track" rewarded her for her work on the movie soundtrack.
The students in the program said they had a positive experience working with Migenes.
"She's really exciting and inspiring to be around because she is full of emotion and passion, and it's very evident in all her actions and the way she teaches," Vocalist-in-Residence student Ari '14 said.
The final performances of these pieces were featured as part of the Winter Choral Concert at Marlborough on Friday, Dec. 13, 2013 at 7:00 P.M.