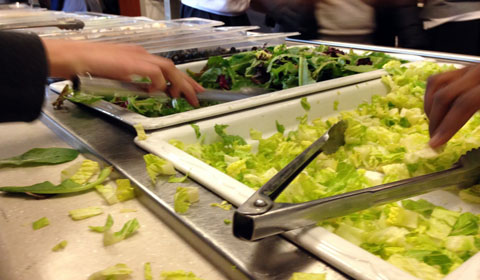 On Monday, Dec. 2, Culinart nutritionist Sarah Roach spoke at an All-School Assembly in order to share tips for healthy eating habits with Marlborough students. She urged girls to be aware of the effect of certain types of food on their energy levels. Skipping breakfast or eating only a donut or cupcake in the morning can affect mood and concentration. One of her essential tips for Marlborough girls was to follow a diet that includes proteins, carbs and fats.
"I would say the one thing is to make sure that you're eating a balanced meal. [The meal] doesn't  have to be a lot, but definitely make sure [to have a balanced meal] at breakfast and lunchtime because, if you don't, it can lead to starving yourself all day and to craving potato chips," Roach said.
Roach also informed girls about foods that provide all their needed vitamins and minerals. For example, bananas in the morning are a good source of vitamins and minerals, especially potassium, and complex carbs. She also recommended that girls seek out quinoa, the superfood recently introduced to North American cuisine. The grain is gaining popularity for its whole grains and protein benefits.
After the All-School Assembly, Roach answered questions outside of Café M and served samples of healthy snacks that girls can make at home. These samples included sweet potato quinoa croquettes, creamy quinoa breakfast cereal and anytime energy granola.
"I thought the granola was a little bit sweet. It wasn't exactly [to] my liking," Zoah '16 said.
Although Zoah '16 did not enjoy Roach's anytime energy granola, healthy doesn't always have to be untasty! Try a different recipe here!