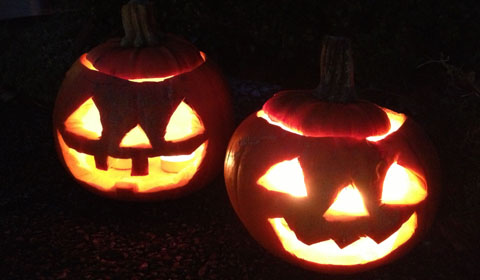 On this most recent Pumpkin Day, Juliet '18 crawled, crab-walked and back-bended her way down the center aisle of the gym, dressed in children's pajamas, as the possessed young girl in the movie "The Last Exorcism." Juliet, along with other brave students and faculty, had the opportunity to display her Halloween costume by parading down the catwalk in front of the entire school this Oct. 31st in the hopes of taking home a winning sash.
Jessica '19 entered herself into the Most Creative division for her steampunk angel costume and won.
"[Winning] was kind of in the back of my mind…. Winning sounded fun, but I just didn't think it was going to happen," Jessica said.
In the other categories, Margaret '15 and Jay-Jay '15 finished on top for Best Couple or Group as Google Maps, Juliet took first place for Scariest as the possessed young girl, Adi '14 snagged the prize for Best Imitation as a disapproving Mary Caswell and holy cows Sora '18 and Juliana '18 earned a blue ribbon for Funniest/Punniest as cattle with halos.
Sophie '14 and Remy '14 were close runners-up as the hilarious pair Jesus and Yeezus. Other notable costumes were worn by a large group of seniors dressed as the cast of "Orange is the New Black," Katie '15 and Kara '15 as characters from "Wayne's World" and a large group of seventh graders as minions from "Despicable Me."
Staff members, instead of teachers, usually serve on the panel so that students do not perceive any type of bias from the judges.
"[The judges] were actually unanimous," Director of Academic and Administrative Technology Stuart Posin, a 2013 Pumpkin Day judge, said. "We got together, and it was very easy to make a decision, which means that the winners did a really good job [of] standing out."