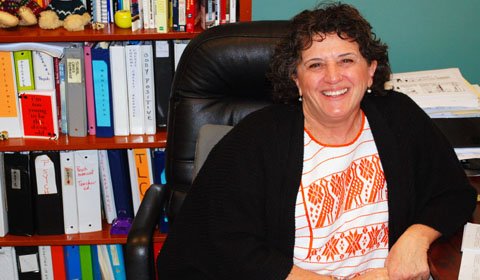 During National Mental Illness Awareness Week in October, which is dedicated to increasing the public's understanding of mental health, the Marlborough community learned about mental illness and partook in activities to relieve stress. School Counselor Emily Vaughn said that she sees the month as an opportunity to recognize adversities that teens can encounter, such as sleep deprivation, drug and alcohol abuse, and depression.
In accordance with Vaughn's suggestion to host a guest speaker, Sarah Jakle Gabe '92 spoke to the Upper School on Oct. 28 about her experience with bipolar mixed states and the key elements that helped her overcome this obstacle in her life. The main message she wanted the audience to take away is that it is absolutely possible to recover from mental illness.
Vaughn elaborated that avoiding mental illness is a question of "institutionalizing mindfulness," or being more aware of one's mental state, and taking small breaks from stress in one's day in order to de-stress one's body and mind.
Vaughn said that her most satisfying moment this year was watching 400 girls in Caswell Hall meditate together.  She hopes that the school can participate in more of these healthy activities, which require asking oneself, "What really does make me happy?" or "What would I like to see different in my life?"
"Mental health is all about trying to achieve the kind of person you want to be, and being the best person you can be," Vaughn said.