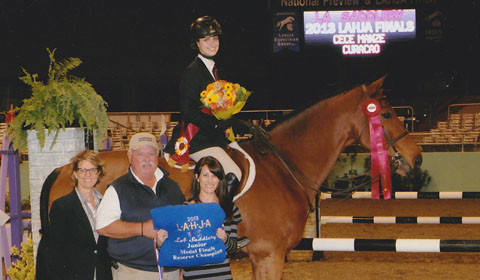 On Friday, Nov. 1, Cece '15 placed second overall in the Los Angeles Junior-Amateur Medal Finals at the Los Angeles Hunter Jumper horse show, putting her on her way to national recognition. Members of the Marlborough Equestrian team, as well as other equestrians from all over Southern California, participated in the horse show, which took place over the course of four months because so many equestrians participate in both dressage and jumping. Because of the large number of riders, including some very advanced equestrians, achieving second place was quite a feat for Cece.
"It was really, really, really amazing…I came into it not really focused on anything, and not focused on winning," Cece said. She recalled how she just thought to herself, "I'll do my best, I've got nothing to lose."
Cece continued to explain that she was a little nervous going into the show because of the course style. She competes as a jumper, riding on courses where her horse jumps over designed rings, racking up points for precision and being judged according to her ability to successfully complete the course. She elaborated that the course itself was an adjustment for her, as the barriers being jumped over are normally taller, creating anxiety for Cece. Thankfully, her horse was well behaved.
"He was so good, I love him so much," Cece said when describing her horse. "He was such a good boy."
Cece explained that after the first round of showing, she was "sitting," meaning that she placed third or fourth overall. She later moved up in the second round to second overall. Cece said that the girls in the most advanced category were rather advanced in comparison to her in terms of their abilities, so she knew that second was as high as she could place.
"There was no chance of me to place it, but still getting second was really good for me. Honestly, I just take it as it goes," Cece continued.