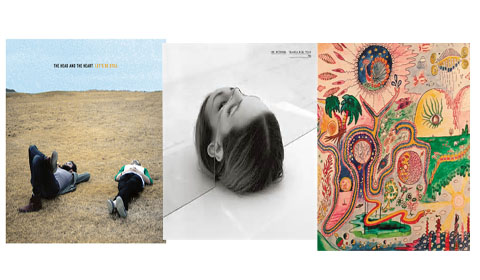 The Head and the Heart's Let's Be Still: In 2009, Seattle-based indie folk band The Head and the Heart self-released its first album, and within months, the record sold over 10,000 copies. In November 2010, the band was signed with Sub Pop Records and until recently had toured with only one album under its belt. On Oct. 15 2013, the band finally released its highly anticipated second album called Let's Be Still.
Let's Be Still includes soulful songs with three-part harmonies and powerful piano and drums. It is obvious that this album features more input from all band members and a greater variety of instruments than the band's first album. The heartfelt, upbeat song "Homecoming Heroes" mixes powerful drums and piano with a light violin in the background to create a sound one might compare to the songs of Mumford & Sons. "Another Story" begins with an ethereal tone but transforms into a rich, gospel-like song. The layering of piano and violin does not compromise the track's delicate sound. The album contains a great variety of upbeat, light-hearted songs as well as songs with more melancholy undertones and lyrics, such as "Gone." The album as a whole is emotionally stimulating, creating a sound that will leave the listener feeling simultaneously sad and uplifted. Let's Be Still serves as great background music for road trips, foggy fall days and Sunday afternoons.
Youth Lagoon's Wondrous Bughouse: Youth Lagoon is a stage name for Trevor William Powers, an artist who grew up in Boise, Idaho and released his first album in 2011. Employing electronic elements, his music is quite dreamy and hypnotic. He is often compared to artists like The Flaming Lips and Beach House. Powers uses music to express both his thoughts and fears about the world.
"I'm not a gifted speaker, so explaining things is difficult for me. But music always makes sense," Powers explained.
Youth Lagoon's recent album Wondrous Bughouse explores the metaphysical universe, examining the foundation upon which people understand the world, including elements like space, time, existence and possibility. This theme matches Youth Lagoon's lo-fi, psychedelic pop sound. The album features mesmerizing songs like "Raspberry Cane," which features a repetitive background piano melody that is irresistibly entrancing. The track "The Bath" is perfect for a sleeping playlist because it emits an incredibly stifled and dreamy tone. "Sleep Paralysis" incorporates Youth Lagoon's electronic aspects, and its changing tempo keeps listeners on their toes. Wondrous Bughouse is successful in mixing electronic backgrounds with dreamy pop songs to create an addicting sound. If you want to fall into a peaceful, hypnotic trance, check out this album!
The National's Trouble Will Find Me: The National is an indie rock band from Cincinnati that formed in 1991. It has released six albums, including the most recent, Trouble Will Find Me. The National's lyrics are frequently described as melancholy and somber. Nevertheless, the band's continuing existentialist theme is relatable and heart-wrenching. Lead singer Matt Berninger defines the band with his extremely rich, resonant voice. Berninger is joined by two sets of brothers who play guitar, keyboard, bass and drums. Berninger explained that The National chose its name because the band members wanted a meaningless title that was "benign and nothing fancy."
Trouble Will Find Me features appearances from guest artists like St. Vincent, Sharon Van Eaton, Sufjan Stevens and Richard Reed Parry of Arcade Fire. The album remains constant to the themes in the band's previous albums; the music remains dark but soothing. However, Trouble Will Find Me may be an ultimate peak for the band's songwriting because each song sounds unique and individually meaningful. The song "I Need my Girl" blends Berninger's voice with a pleasingly repetitive guitar riff and soft drum beat. The album's top single, "I Should Live in Salt," is about Berninger's relationship with his brother, which allows the listener to connect with the tune. The overall somber sound of this album and Berninger's full tone are tranquilizing and relatable.