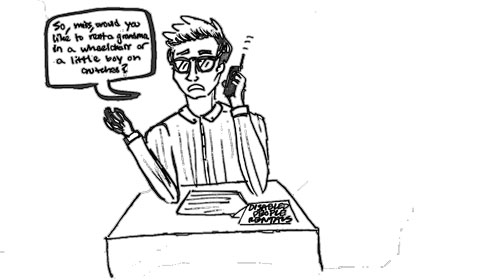 In order to jump the lines for rides at Walt Disney Parks and Resorts, many families have hired people with disabilities to pose as family members, enabling them to bypass long lines with "disability access cards." Walt Disney Parks and Resorts have had so many visitors abusing the system, either by faking disabilities or hiring handicapped people, that they have changed their policies.
According to the new policies, Walt Disney Parks and Resorts will no longer allow people with disabilities or any of their accompanying family members to bypass lines for rides and other park attractions. On Sept. 26, the Wall Street Journal reported, "Because parents scammed the theme parks, now disabled children will lose out."
Before the policy change, fakers and scammers were rampant. An able-bodied Manhattan mom hired a disabled tour guide during her family's spring break, for example, so the family could ride around Walt Disney World in Orlando, Florida on a motorized scooter with a sign that read "handicapped."
In an article in the Daily Mail, another anonymous Manhattan mother said, "My [able-bodied] daughter waited one minute to get on 'It's a Small World,' while other kids had to wait two-and-a-half hours."
Disney's policy change is meant to prevent visitors from faking disabilities or cheating the system, but it runs the risk of keeping visitors with actual disabilities away from the parks.
In an NBC interview, Disney parkgoers Anne Hardstaff and Rebecca Goddard discussed how the new policy has negatively influenced their lives. Hardstaff, who has arthritis, said, "I can't stand for a long time." Her condition previously enabled her to skip long lines with a disability access card, but because of the new policy, Hardstaff will no longer visit Walt Disney Parks and Resorts.
Goddard, whose sons have autism and have difficulty waiting in long lines, remarked, "My boys don't have the cognition to understand why it's going to be a long wait." She went on to say, "There are so few things for my boys that bring them utter joy and happiness. To mess with it just makes me sad." Like Goddard's sons, other children with disabilities might be less likely to visit Walt Disney Parks and Resorts because they will have to wait in longer lines.
"Disabled people must feel like their condition is being belittled because there are no improvements to the new policy for people who are disabled," Natasha'16 said. Natasha added, "This new rule will cause a lot of people with disabilities to not want to go to Disney Parks because it's such a hassle."
Olivia'16, who was in a wheelchair this summer because of an ankle injury, went to Disneyland and was granted a disability access pass.
"Even though having a broken ankle made it harder on me and my family to move around Disneyland, the shorter lines really helped. The disability lines gave me the ability to enjoy Disneyland without being in pain, by not having to wait in a long line with people pushing and shoving me in my wheelchair," Olivia said.