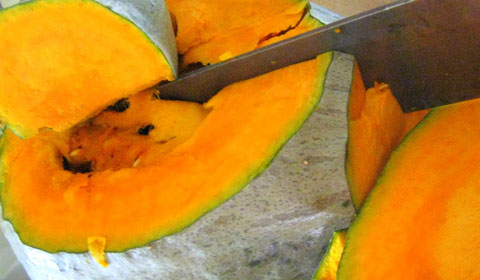 Every Thanksgiving morning I wake up to the smell of sweetness and pure happiness. I come running downstairs awaiting my favorite holiday treat, candied squash. I watch as my mom takes the dish out of the oven and places it on the oven. Once again, I get to enjoy my favorite autumn treat.
Have you ever wondered how to make candied squash as a holiday treat? Well you have come to the right place.
Step 1: Get one large butternut squash and put it in hot water for about ten minutes
Step 2: Peel off the skin and cut the squash in half
Step 3: Take a spoon and scrape off the seeds
Step 4: Chop the squash into small cubes and place them into an 11 by 8 inch casserole dish. Use butter to grease the bottom and the sides of the pan.
Step 5: Take about 3-5 apples and cut them into cubes about the size of the squash pieces
Step 6: Melt some butter and add about 2 tablespoons of sugar to the squash
Step 7: Place the dish into the oven for about 20 mins and TADAAAA…. You have successfully made your very own candied squash.